Sorry! You're too late.
The Arsenal SAM7SF 7.62x39mm 16.25" 10 Rd SAM7SF-84 GI# 101113222 has been sold.
Click
here
to see what else is available by Elk County Ammo and Arms.
View other listings in this category....
Featured Gun Classifieds Arsenal Firearms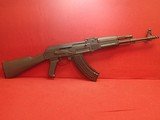 Arsenal SLR101s 7.62x39mm AK-Style semiautomatic rifle. This rifle is Bulgarian made, with a high quality and very desirable milled billet receiver, as opposed to lower quality stamped receivers
...Click for more info
Seller: New England Guns and Parts
Area Code: 508
$1275.00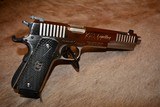 FREE SHIPPING in the lower 48 states! (AK & HI add $45) NEW - VERY HARD TO GET - VERY RARE: Arsenal Firearms The Dueller! The world's ONLY side by side 1911 - it's act
...Click for more info
Seller: Renaissance Firearms
Area Code: 603
$6,799.00
Arsenal Firearms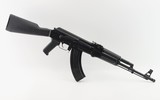 Arsenal AK SAM7R-61 Made In Bulgaria 7.62X39, 16 1/4" bbl, bright shiny bore, good rifling, flash hider, adjustable notch rear sight, post in military wings front sight, black finish, milled rece
...Click for more info
Seller: Sprague's Sports Inc.
Area Code: 800
$1,299.00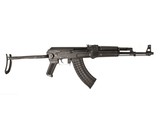 BRAND NEW IN THE BOX AND READY TO SHIP! BUY IT NOW!! Manufacturer: Arsenal, Inc. Model: SAM7UF SKU: SAM7UF85 Caliber: 7.62x39mm Capacity: (1) 10 Ro
...Click for more info
Seller: Elk County Ammo and Arms
Area Code: 814
$1,249.99
BRAND NEW IN THE BOX AND READY TO SHIP! BUY IT NOW!! Manufacturer: Archon Firearms, Made in Germany Model: Type B SKU: TYPEB Caliber: 9mm Capacity: (4) 15 Round Magazi
...Click for more info
Seller: Elk County Ammo and Arms
Area Code: 814
$819.99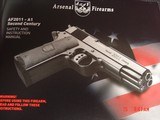 Here is a very rare double barrel 9mm semi auto pistol made in Italy from Arsenal firearms, model AF2011 A1, built to commemorate the 1911 Colt 100th anniversary,weight is 4.5 pounds,& comes with
...Click for more info
Seller: Bob Simpson FFL Dealer
Area Code: 727
$4,495.00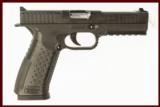 ARSENAL ARMS STROKE ONE CHAMBERED IN 9MM WITH A 4 INCH BARREL COMES WITH 2 CASES (PELICAN AND THE ORIGINAL) AND 1 EXTRA MAG. THIS GUN IS IN GOOD CONDITION AND IS COVERED BY DURY'S LIFETIME WARRANT
...Click for more info
Seller: DURY'S GUN SHOP
Area Code: 210
$1999.99

Arsenal SAM7 7.62x39mm caliber rifle. Arsenal SAM7 under folder with 16"barrel, milled receiver and under folder stock. NEW
...Click for more info
Seller: Collectors Firearms
Area Code: 713
1,439.95