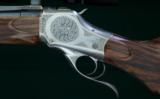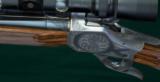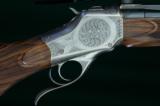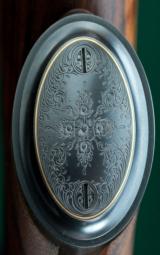 Don Klein & Sam Welch. Custom Winchester 1885 High Wall. .225 Winchester
Guns International #: 100192955 Seller's Inventory #:
Category: Custom Rifles - Single Shot Rifles - American

Seller's Information
When emailing or calling sellers direct, please mention that you saw their listing on GunsInternational.com



Seller: Hallowell & Co.
Company: Hallowell & Co.
Member Since: 3/16/07
First Name: Morris
Last Name: Hallowell
State: Montana
Zip: 59047
Country: United States
Phone: (406) 222-4770
Fax: (406) 222-4792
Number of Active Listings: 151
Total Number of Listings: 1199
Seller: FFL Dealer
Return Policy: 3 day inspection and return policy on used guns.
...from arrival at receiving transfer dealer's location, non-firing and non-disassembly. Layaways: 1/3 down with balance due in 60 days. No returns or cancellations on layaways.
Payment Types Accepted: Bank checks, money orders & wire transfers; Personal & company checks after a week to clear.


Description:
24" tapered round Krieger barrel with quarter rib and integral bottom-halves of scope rings. Stocked by Don Klein with fully figured Turkish walnut: ebony forend tip, steel forend escutcheon, flat sidepanel details, classic point-pattern checkering, double-beaded pancake cheekpiece, steel pistol grip cap and buttplate. Nickel-finished Winchester thick-side high wall action sculptured by Don Klein and with custom trigger and loading lever, newly made internal parts, tangs converted for pistol grip and through-bolt mounting. Engraved by Sam Welch with gold-bordered English rose & Scroll. Leupold Vari-X III 4.5 - 14x 40mm matte-finish scope with fine duplex rangefinding reticle on custom integral fixed mount. Pull: 13 3/4". Weight: 8lbs, 2oz. Completed 1999. New condition. In full-length oak and leather case by Ray Sterck, with natural-white-handled accessories and stag-handled drop-point hunting knife by L M Erickson of Liberty, Utah, engraved by Sam Welch and numbered to the rifle. With brass cases. Pictured in Turpin's Modern Custom Guns, pages 79, 126 & 127 and Guns Magazine July 199, pages 52 and 58.

Price: $19,995.