Sorry! You're too late.
The Daniel Fraser Paradox GI# 101085872 has been sold.
Click
here
to see what else is available by Gunroom.us.
View other listings in this category....
Daniel Fraser Rilfes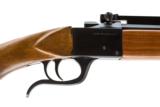 24 " 1/2 OCTAGON 1/2 ROUND BARREL THAD SCOTT IMPORT AND ITALIAN MANUFACTURE IN THE 1980S NEW CONDITION 13 3/4 LOP REDFIELD BASE
...Click for more info
Seller: Steve Barnett Fine Guns
Area Code: 662
$1,795.00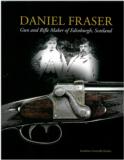 Written by Jonathan G. Kirton and Printed in Sept. 2014. Hardcover, 274 Pgs. This book covers the personal history of Daniel Fraser and of the famous gunmaking firm which he founded, and following Dan
...Click for more info
Seller: Joe Salter
Area Code: 603
$64.95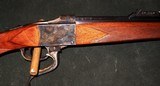 DANL FRASER BLACK ISLE SCOTLAND 22 HORNET, CASE COLORED FALLING BLOCK, 24" FULL OCTAGON BBL, EJECTORS, SINGLE TRIGGER, MEDIUM DARK WALNUT, PISTOL GRIP WITH CHEEKPIECE, LOP 14 1/4, 4LBS 10OZ, EXPR
...Click for more info
Seller: Safari Outfitters Ltd.
Area Code: 845
$1,495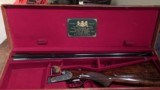 This Daniel Fraser double rifle in .303 British (Nitro Proved) is an exceptional example of the Scottish gunmaking craft. There's something special about the quality of guns that come from Sco
...Click for more info
Seller: Henley & Delamere
Area Code: 585
$24,450 + S&I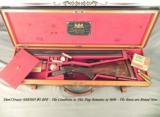 #2026, Dan'l Fraser & Co., 4 Leith St. Terrace, Edinburgh: A Daniel Fraser 500/450 No. 1 BPE Double Rifle That is Totally Museum Quality & Museum Condition, Overall a 96% Original Piece on
...Click for more info
Seller: Champlin
Area Code: 580
23500.00 - SOLD

Daniel Fraser A&D Cased 16 Bore Boxlock Ejector. This is the most ornate of the Fraser boxlock guns. Scottish roped borders and the fences are embellished with the styliz
...Click for more info
Seller: Schwandt Classic Arms
Area Code: 608
$12,950.00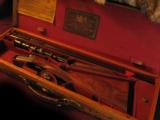 Early D&J Fraser ejector double rifle in excellent condition as restocked, in the original maker's case with some tools, labels, and original scope rings (sadly, without the Fraser "paten
...Click for more info
Seller: doublegunhq
Area Code: 325
$17,500.00
Daniel Fraser – Best Boxlock Double Rifle, .375 H&H belted rimless, highly figured European walnut stock with metal trapdoor grip cap, cheekpiece, thin recoil pad, splinter forend, automatic
...Click for more info
Seller: Connecticut Shotgun
Area Code: 860
$61,000.00