Military Rifles - Eddystone
Military Rifles - Eddystone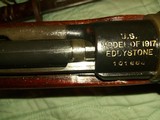 Eddystone 1917 30 - 06 EXCELLENT bore Wood is also in excellent condition with minor dings and good inspection stamps with bayonet also in EXCELLENT condition.
...Click for more info
Seller: Kate E
Area Code: 239
$1000 without bayonet $800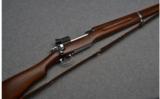 A nice Eddystone US model 1917 bolt action rifle, refinished to Parade Configuration with details nickle plated and polished.This rifle appears to be usable and is chambered in .30-06 Sprin
...Click for more info
Seller: Cabelas Woodbury
Area Code: 612
$799.99

Eddystone 1917 .30-06 caliber rifle. U.S. WWI military rifle dated 1918. Bore has strong rifling and some frosting in the grooves. Wood is very good, no cracks. Very good overall condition.
...Click for more info
Seller: Collectors Firearms
Area Code: 713
1,050.00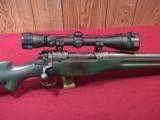 EDDYSTONE 1917 CUSTOM 240 GIBBS 26", 97% PARKERIZE FINISH, CAMO GREEN SPORTER STOCK, SIMMONS 4.5-14 40MM ATV SCOPE ON WEAVER MOUNTS, EXC. BORE
...Click for more info
Seller: WILDWOOD INC
Area Code: 207
$695.00
EDDYSTONE 1917 CUSTOM 30-06 IMPROVED, DRILLED FOR WEAVER MOUNTS AND A RECEIVER SIGHT, HAS BAND TYPE FRONT SIGHT, 95% BLUE, CUSTOM STOCK WITH ROOSEWOOD FORE END TIP AND GRIP CAP, SKIP LINE CHEC
...Click for more info
Seller: WILDWOOD INC
Area Code: 207
$650.00