Featured Gun Classifieds MSAR Rifles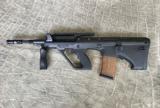 MSAR XM17 - E4 16" barrel bullpup rifle. This rifle is in like new condition. This is as short as you can go and still be a non NFA rifle. Due to the bullpup design the action is further back in
...Click for more info
Seller: Tampa Collectibles
Area Code: 727
$1199
MSAR Rifles

223 cal; Matte black finish. 20 round magazine. In box with accessories and papers. Please call (309)342-5800 Tues-Fri, 10 am 6pm (CST), or Sat 1pm-6pm (CST), for further information, or to purchas
...Click for more info
Seller: Simpson Ltd
Area Code: 309
$1,995.00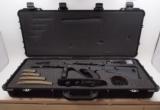 MSAR STG-556 Bull Pup Rifle WCase 5.56, 16" chrome lined bbl, shiny bore, good rifling, integrated 1.5X optical sight, black finish, black synthetic grip stock, black barrel grip, and 1 each 10 r
...Click for more info
Seller: Sprague's Sports Inc.
Area Code: 800
$1,799.00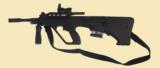 223 Remington; 100% blue, excellent bore, excellent stock, 18.5'' barrel, Steyr Aug clone "bullpup" design. With sling, plastic muzzle cover and 10 round magazine. Integral picatinny
...Click for more info
Seller: Simpson Ltd
Area Code: 309
$1,395.00

MSAR STG 5.56/ .223 REM caliber rifle. An MSAR clone of a Steyer Aug with a built-in optic and 20" barrel in a great condition.
...Click for more info
Seller: Collectors Firearms
Area Code: 713
1,495.00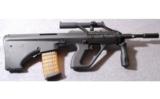 Seller: Cabelas Rapid City
Area Code: 605
Was $1,979.99 Now $1,349.66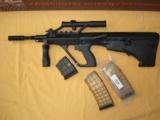 MSAR .556 With scope. Copy of a Steyr Aug. With 2 30-round mags and 1 10-round mag. Serial nos. 600-P001696. With original box and sling. Made in Brtadford, Pa. Excellent like-nerw conditi
...Click for more info
Seller: Gun Lady
Area Code: 610
$1,895.00

New in box MSAR Microtech BLACK Rifle consists of a semi-auto, bullpup design, gas operated rotating bolt/ short piston drive. Capable of 150 rounds per minute (semi-auto). Rifle .223 has a 16" c
...Click for more info
Seller: Halifax Supply
Area Code: 386
$1,099.99

New in box Microtech OD GREEN Rifle consists of a semi-auto, bullpup design, gas operated rotating bolt/ short piston drive. Capable of 150 rounds per minute (semi-auto). Rifle .223 has a 16" chr
...Click for more info
Seller: Halifax Supply
Area Code: 386
$1,099.99