New England Firearms - Rifles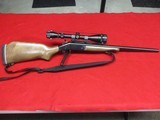 This would make a fine varmint rifle. The New England Firearms Handi-Rifle was designed to provide shooters with a highly accurate rifle at a relatively low weight for traveling long distances with on
...Click for more info
Seller: Shooter's Supply, LLC.
Area Code: 423
$295.00

This 204 Ruger Handi Rifle has a blued, tapered round 1-1/8" to ¾" x 22" barrel with scope base. The bore is very good. The factory laminated hardwood butt stock an
...Click for more info
Seller: The Gun Works
Area Code: 541
$295.00

New England Handi-Rifle SB2 .223 Rem caliber rifle. Single shot rifle in excellent condition.
...Click for more info
Seller: Collectors Firearms
Area Code: 713
$279.95