Sorry! You're too late.
The Winchester 94 Canadian Centennial Rifle/Carbine Set .30-30 Win ANIB. GI# 100679365 has been sold.
Click
here
to see what else is available by Cabelas Owatonna.
View other listings in this category....
Pairs of Rifles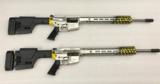 AEROPRECISION M4E1 (223) BUILDER SET W/ 15" M-LOK HANDGUARD - AIR FORCE BUILDER SET RISE ARMAMENT RA-535 3.5 LBS ADVANCED PERFORMANCE TRIGGER, SINGLE STAGE JP ENTERPRISES AR-15/M16 ADJ GAS
...Click for more info
Seller: Cripple Creek
Area Code: 469
$3,000.00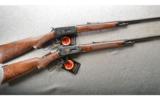 This is a Winchester Model 94 Limited Edition Centennial Set. Set number 1220. High grade and grade 1. Comes complete with factory correct box, end labels and paperwork. ANIB condition. Both firearms
...Click for more info
Seller: Cabelas Owatonna
Area Code: 507
Was $3,399.99 Now $3,219.88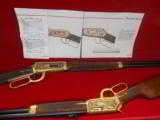 20" carbine bbls., select American walnut with spade design checkering, blade front & Buckhorn rear, 24kt gold finished receiver depicting 2 bull Elk dualing - witnesed by c
...Click for more info
Seller: Charlie Hancock
Area Code: 731
$5,150.00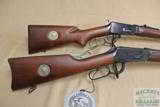 Both the 1894 and the Musket are in like-new condition in the box, with the wax paper and paperwork from the factory. These rifles were manufactured for the 1971 Centennial anniversary of the NR
...Click for more info
Seller: Mackeys
Area Code: 252
$1,599
I PROVIDE 7 DAY INSP. I CAN PROVIDE REFERENCES ON GUN SALES. PHONE 260 367 2633 CELL 260 243 0700
...Click for more info
Seller: Jerry
Area Code: 260
$2,995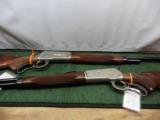 Browning lever action rifles for sale. Model 71 high grade version. This is a two gun set with rifle and carbine models. Excellent overall condition. Unfired and with original boxes. Chambered in .348
...Click for more info
Seller: G2 Sporting Arms
Area Code: 858
$4,000.00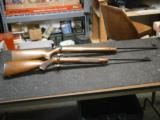 Winchester model 75 Sporter and model 75 Target with consecutive serial numbers. Unique pair of 22 caliber Winchester bolt action rifles in excellent condition. The later run of grooved re
...Click for more info
Seller: papalondog
Area Code: 541
$3000 OBO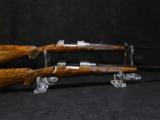 This set of rifles were one by dakota Arms as a donation to Safari Club in about 2005. They were valued at that time at $50,000 for donation purposes and in reality replacement cost would not be
...Click for more info
Seller: Gulf Breeze Firearms
Area Code: 850
$24,995.00
Winchester - Model 70, matched set of all 3 WSM guns, matching serial numbers, .270 WSM, 7MM WSM, & .300 WSM, all three guns have serial number 3, custom shop guns with custom shop proof marks, go
...Click for more info
Seller: Connecticut Shotgun
Area Code: 860
$19,999.00

Winchester 67 .30-30 caliber rifle and carbine. Canadian Centennial Commemorative 2-gun consecutive set, with one rifle and one carbine. Excellent condition with boxes.
...Click for more info
Seller: Collectors Firearms
Area Code: 713
1,995.00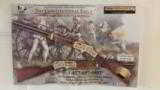 I am selling the 4 of 12 made ALL GUN SALES ARE FINAL $50 for shipping Add 3% to the total for credit card purchases
...Click for more info
Seller: VHF Guns
Area Code: 563
$2095.00