Sorry! You're too late.
The Russian Mosin Nagant Model 91-30 Finnish capture. GI# 101789554 has been sold.
Click
here
to see what else is available by Gainesville Pawn.
View other listings in this category....
Rifles - Russian

Here we have an Alantic Arms Exclusive Russian MOLOT VEPR AK style .308 Winchester rifle build in excellent condition. This rifle looks to have been VERY lightly used in the past if at all, since bein
...Click for more info
Seller: Antique & Modern Firearms, Inc.
Area Code: 859
$1,995.00

Manufacturer: Keystone Sporting ArmsModel: Mini Mosin NagantSKU: KSA9130Caliber: .22 Long RifleCapacity: Single ShotBarrel: 20"Weight: 2.8 lbsLength of Pull: 11.5"Overall Length: 33.625
...Click for more info
Seller: Elk County Ammo and Arms
Area Code: 814
$379.99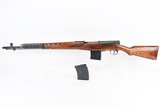 This is a excellent example of a scarce Russian SVT-40. Made in 1941 at the Tula factory. It's arsenal refurbished with matching numbers throughout - most serials are etched. Import mark on the right
...Click for more info
Seller: Legacy-Collectibles
Area Code: 610
$2,850.00

1947 all original M44 Mosin Nagant carbine. Numbers matching. Includes original sling and bayonet. Markings, metal, bore, and wood in excellent condition.
...Click for more info
Seller: Paladinarmso
Area Code: 903
$595.00
***Was $1495.00 but now spring special $1350.00*** RU5-54: Russia SKS 45, 7.62x39mm. Semi-auto 10 shot. RARE Izhevsk Marked 1954 on top cover. Import marked, matching numbers on metal. Metal
...Click for more info
Seller: YooperJ
Area Code: 906
$1,350.00

C242 Tula SKS - 7.62x39mm Russian - Stk #C242 This 7.62x39mm Russian Tula SKS rifle has a black painted tapered round barrel with an excellent bore. The hooded front sight has windage and elevat
...Click for more info
Seller: The Gun Works
Area Code: 541
$950.00