Featured Gun Classifieds Sedgley Rifles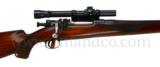 Sedgley 1903 30-06. The action is clean with factory blue, this is the era when Sedgley ran the bolt close to the action with a groove in the stock and placed the serial number in the rear of the bolt
...Click for more info
Seller: Willoughby McCabe & Co.
Area Code: 469
$1,650.00
Sedgley Rifles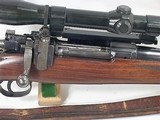 SEDGLEY SPRINGFIELD CARBINE SPORTER IN 250-3000 20", FULL STOCK, WILLIAMS SIDE MOUNT WITH LYMAN ALL AMERICAN 6X, 97% BLUE WITH THE FLOOR PLATE AND GRIP CAP TURNING BROWN, NICE WOOD WITH LIGHT HA
...Click for more info
Seller: WILDWOOD INC
Area Code: 207
$2,395.00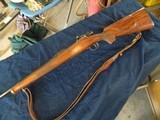 This is a very rare rifle (less than 700 made in this configuration). Has very much upgraded wood with the rare cheekpiece, unaltered but for a drill and tap on the front ring thats been closed and r
...Click for more info
Seller: Atkinson
Area Code: 208
$2550 shipped and Insured in the USA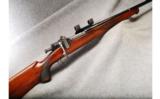 Seller: Cabelas Chesterfield
Area Code: 586
Was $1,649.99 Now $1,567.88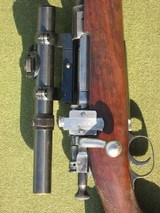 R.F SEDGLEY SPRINGFIELD 1903 30/06 RIFLE 24" BARREL WITH VERY GOOD BORE GRIFFEN & HOWE SINGLE LEVER SIDE MOUNT ITH HENSOLDT 2 ¾ X PRE WAR FIGURED WALNUT SEDGLEY CHECKERIN
...Click for more info
Seller: mmriflemakers
Area Code: 828
$2,595.00

.22 long rifle caliber with the barrel relined and signed by A. Hubalek on the top barrel flat. R.F. Sedgley appears on the barrel under the forend. The stock work is reminiscent of
...Click for more info
Seller: Caledonia
Area Code: 717
$4,450.00

Sedgley Springfield 1903 Sporter Rifle .30-06 caliber 24" barrel Pre war style Black Sheep butt pad Sling swivels Period correct leather sling Nice grained walnut wood stock
...Click for more info
Seller: Elephant & Castle Fine Arms
Area Code: 417
$1,795.00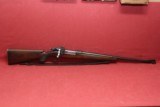 30-06, serial number 51X. Custom sporter made by RF Sedgley. 1920's era. Original Springfield serial number removed and re-numbered by Sedgley in bolt channel indicating high g
...Click for more info
Seller: Pintos
Area Code: 425
$950.00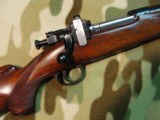 Here's another gorgeous Sedgley with very high level of condition. Stunning figure on the Walnut stock, near flawless fine rust blue finish on the metal, and beautiful, crisp, shiny 24" bore
...Click for more info
Seller: Bell And Corbett Outfitters
Area Code: 510
$3,995.00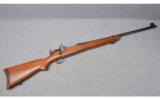 Seller: Cabelas West Chester
Area Code: 513
$1,199.99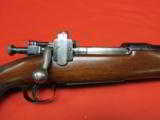 Springfield 1903 Sedgley Custom '03 30-06 Springfield 24" -- A very well executed sporting custom by P.F. Sedgley -- Checkered sporter style stock with checkered steel buttplate, Lyman receiv
...Click for more info
Seller: Jaqua's Fine Guns Inc
Area Code: 419
$1,995.00
Springfired express stalking rifle .30-06 caliber Looks like an early Sedgeley but not certain. Has express sights ,excellent bore ,smooth action. Checkered tang area on the stock. Barrel is 23
...Click for more info
Seller: winehunter
Area Code: 631
$1495.or best offer .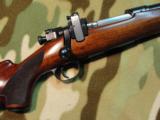 A particularly attractive Sedgley Springfield, with some unique features. Note the unusual checkering pattern, front sight base, handsome wood grain. Stock channel and key metal components marked with
...Click for more info
Seller: Bell And Corbett Outfitters
Area Code: 510
$2,750.00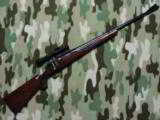 This is really an exceptional package...one of those rifles that gets us excited, and makes us glad to be in this business. The Griffin and Howe mount was likely factory installed: below the wood, fin
...Click for more info
Seller: Bell And Corbett Outfitters
Area Code: 510
$3,500.00