Sorry! You're too late.
The Julien Pinfire Rifle GI# 100490509 has been sold.
Click
here
to see what else is available by Pinfire.
View other listings in this category....
Pinfire Rifles

Klein's Patent Needle Gun. Very rare gun made in the 1850s. Needle guns are very fascinating and important system. This system was the first bolt action cartridge gun when percussion guns were t
...Click for more info
Seller: Collectors Firearms
Area Code: 713
2,995.00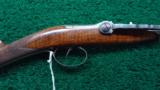 Marked W Hanau IN GERA". Very nicely done little gun. 13-1/2" bbl to the breech which opens with a fancy engraved forward facing side lever. The breech area, upper and lower tangs, triggergu
...Click for more info
Seller: LeRoy Merz Antique Guns
Area Code: 218
$3,975.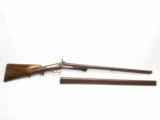 This is a refurbished pinfire rifle/shotgun 2 barrel set with 16 gauge / 58 caliber barrels and 16 gauge barrels. This gun was made by L. Klingler in Karlsruhe, Germany. The 26-¼&rdqu
...Click for more info
Seller: The Gun Works
Area Code: 541
$3,250.00

Bore in 24' barrel has good lands and grooves along with some pitting. It will rate a six on a one to ten scale. The cylinder in a six shot pin fire. Action is smooth and tight. It works perfectly
...Click for more info
Seller: hideaway
Area Code: 501
$2,995.00

Klein's Patent Needle-Fire .60 caliber rifle. Very rare early manufacture. Bolt and bolt handle are brass. 16" Part round/octagon barrel. Stock has a brass patch box with repair at the wri
...Click for more info
Seller: Collectors Firearms
Area Code: 713
6,500.00