Sorry! You're too late.
The Weatherby Mark XXII GI# 101647547 has been sold.
Click
here
to see what else is available by hamjim.
View other listings in this category....
Featured Gun Classifieds Weatherby Rifles - Mark XXII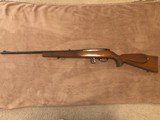 This is a collector quality semi auto .22 rifle made to the highest standards of quality. It is a Weatherby MK XXII, made by Berretta in Italy. It has a thin 24" barrel with a great bore. It
...Click for more info
Seller: FloridaCustomWeapons
Area Code: 904
$849.00
Weatherby Rifles - Mark XXII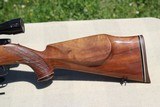 Circa 1968 1st version Italian Manufacture Weatherby factory scope Excellent bore 98 % bright blue 95 % stock finish ( has handling marks in finish) All original uncut stock with factory
...Click for more info
Seller: mmriflemakers
Area Code: 828
$1,359.00
WEATHERBY MARK XXII, 22 LONG RIFLE. 24" BARREL, 98% BRIGHT BLUE, MIRROR PERFECT BORE. GROOVED RECEIVER, N PREFIX SERIAL NUMBER, 10 SHOT CLIP. ATTRACTIVE WOOD, SKIP LINE CHECK
...Click for more info
Seller: Pat McKune
Area Code: 218
$975.00

Seller: Caliber Sports
Area Code: 205
$925

WEATHERBY MARK XXII DELUXE .22LR SEMI-AUTO OR SINGLE SHOT RIFLE WITH REDFIELD 4X SCOPE. Serial number "J407XX". Made in Japan with skipline checkering. 24" tapered barrel. Dovetailed re
...Click for more info
Seller: David Condon, Inc.
Area Code: 540
$1,050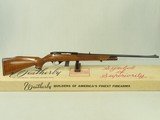 This is a beautiful mid to late 1980's production Weather Mark XXII semi-automatic .22 LR rifle complete with the original box, owner's manual, factory test target, retail hang tags, and even the orig
...Click for more info
Seller: Antique & Modern Firearms, Inc.
Area Code: 859
SOLD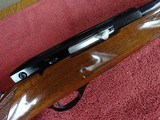 WEATHERBY MARK XXII, 22 LONG RIFLE. MADE IN JAPAN, J PREFIX. 100% BARREL BLUE, MIRROR PERFECT BORE. GROVES SHOW EVIDENCE OF A SCOPE MOUNT, 100% FINISH. ATTRACTIVE WOOD GRAIN
...Click for more info
Seller: Pat McKune
Area Code: 218
$875.00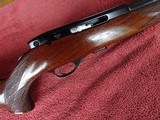 WEATHERBY MARK XXII, 22 LONG RIFLE. MADE IN ITALY BY BERETTA. VERY EARLY PRODUCTION, 5 DIGIT SERIAL NUMBER. 100% BARREL BLUE, MIRROR PERFECT BORE. RECEIVER 100% FINISH.&nbsp
...Click for more info
Seller: Pat McKune
Area Code: 218
$1075.00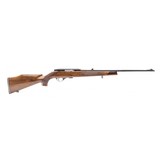 Seller: Collectors Firearms
Area Code: 832
$995.00
Sale Pending-Thank you Martin ! Weatherby Mark XXII Deluxe,box hang tag,papers, test target and factory scope. Like new, looks unfired-still has hangtag,after leaving factory..Gorgous higly figued s
...Click for more info
Seller: Investment Arms-Double Barrel Enterprises LLC
Area Code: 603
$1895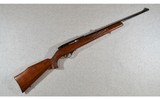 Seller: Cabelas Grandville
Area Code: 616
$699.99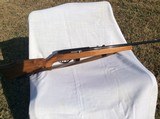 Italian Weatherby XXII Semi-Automatic Rifle built by Beretta between 1962 and 1967. 24" polished blued barrel, black factory grooved alloy receiver, one piece pistol grip gloss walnut stock with
...Click for more info
Seller: GMilamTN
Area Code: 901
$695.00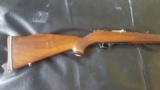 Weatherby Mark XXII Tubular Model in Great Condition. Credit Cards add 3%. Shipping and Insurance is 50.00
...Click for more info
Seller: Browning Collectable Rifles
Area Code: 541
$1,045.00