Sorry! You're too late.
The Winchester Hotchkiss Carbine SRC 1st Model GI# 101081959 has been sold.
Click
here
to see what else is available by Joe Salter.
View other listings in this category....
Winchester Rifles - Antique Bolt

Scarce Winchester Hotchkiss 3rd Model 1883 carbine. Carbine has beautiful case coloring on the receiver. Bore is dark and does have a ring inside. Carbine is not safe to shoot! Stock is in great shape
...Click for more info
Seller: Collectors Firearms
Area Code: 713
2,500.00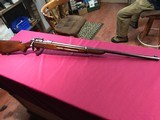 This Winchester model 52 in .22 cal was made in 1922,has original latter sight,good bore very soild rifle . Questions call Richard at 406-407-0698.
...Click for more info
Seller: Shortcolt44-40
Area Code: 406
$1,399.00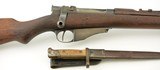 Serial #17711, 6mm Lee, 28" barrel with a very good bore that has minor freckling within the grooves. This is a U.S.N. marked rifle: "-U.S.N.-/[anchor]/No. 17711/J.N.J.", that has 80-85% of the origi
...Click for more info
Seller: Joe Salter
Area Code: 603
$3,250.00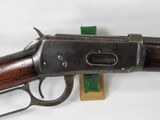 WINCHESTER 1894 38-55 ½ ROUND ½ OCTAGON, BUTTON MAG, BARREL FINISH FADING TO BROWN, 40% RECEIVER BLUE WITH SOME PITTING, GOOD SOLID WOOD WITH MARKS AND DINGS, BARREL HAS SHARP RIFLING WI
...Click for more info
Seller: WILDWOOD INC
Area Code: 207
$1,950.00

I am a collector, not a dealer. I collected Winchester Model 1895 Lee Navy rifles and muskets for over 30 years and over 20 passed through my collection. The musket offered here, serial number 704,
...Click for more info
Seller: The Old Trooper
Area Code: 808
$9,500.00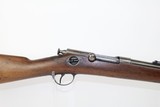 Antique WINCHESTER-HOTCHKISS Bolt Action CARBINE Bolt Action .45-70 GOVT Carbine Made in 1883 Here we present an antique Winchester Model 1883 Hotchkiss Bolt Action Rifle in .45-70 GOVT, manuf
...Click for more info
Seller: AncestryGunsLLC
Area Code: 314
$2,425.00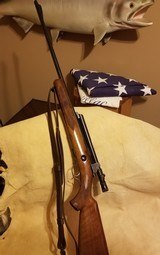 Rare Classic. This 1942 Model 75 Sporter incorporates much of the pride Winchester had to offer at the beginning of the war. Bright bore, sharp unblemished hand checkering, upgraded walnut
...Click for more info
Seller: Fritz21
Area Code: 860
$1,625.00

Winchester 1st model Hotchkiss with Frontier alterations. This gun came out of a collection in Minnesota. Buttplate on this gun is a replacement and slightly oversized. Barrel band is missing and gun
...Click for more info
Seller: Collectors Firearms
Area Code: 713
1,495.00

Serial #12284, .45-70, 24" barrel with a fine, bright bore. This is a handsome carbine that has approximately 80-85% of the original blue finish that has blended smoothly with a gray-brown freckled p
...Click for more info
Seller: Joe Salter
Area Code: 603
$2,945.00

Winchester 1st Model Hotchkiss carbine. This is a rare 1st Model Hotchkiss carbine. This gun has a gray/brown patina, but no pitting on the metal. All of the markings remain nice and sharp. The wood h
...Click for more info
Seller: Collectors Firearms
Area Code: 713
1,895.00

Winchester 1897 Hotchkiss .45-70 caliber carbine. U.S. Military issued carbine. During the service life of this weapon, the arsenals used parts from the 1897 rifle thus the reason it has a rifle rear
...Click for more info
Seller: Collectors Firearms
Area Code: 713
2,250.00
Winchester Model 70 Pre 64 270, Seriel # 105727, seriel # matches bolt, MFG 1949, Pachmaur recoil pad. Good Bore, blueing okay, but thin. Wood looks nice but refinished. 120 more guns available
...Click for more info
Seller: ElkLane
Area Code: 724
$795.00
Winchester Model 70 Pre 64 300 H & H, 98% Seriel # 432603, bolt matches. Metal Butt, MFG 1958, REAL Nice bore, 26 inch barrel, blueing very nice and wood very nice. Light handlin
...Click for more info
Seller: ElkLane
Area Code: 724
$2,495.00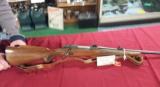 Winchester Model 70 30-06 with a check rest built into the stock. The serial number is 810659 and was manufactured in 1966 only. It was a one year production run. They only made&nb
...Click for more info
Seller: VHF Guns
Area Code: 563
$2450.00