Winchester Rifles - Model 53
Featured Gun Classifieds Winchester Rifles - Model 53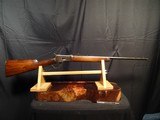 WINCHESTER MODEL 53 CALIBER 25-20 WCF MFG DATE 1925 METAL FINISH TURNING BROWN NO RUST OR PITTING OF ANY METAL PARTS. BORE EXCELLENT NICE SHINE LANDS AND GROOVES EXCELENT. WOOD
...Click for more info
Seller: MAX T. FRANCE
Area Code: 716
$1,195.00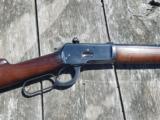 A beautiful high condition model 53 in the desirable 44wcf (44-40) that was made in 1924 (1st year production). This is a stunning rifle with the 22" round barrel, with 98%+ of the original facto
...Click for more info
Seller: Jacob Hranowskyj
Area Code: 804
$6,500.00

EXCELLENT WINCHESTER MODEL 53 TAKE DOWN .25-20 W.C.F. CAL. RIFLE CIRCA 1927. 22" Nickel Steel barrel. Serial number in the 7,xxx range and all matching and original. Very handsome example with 9
...Click for more info
Seller: David Condon, Inc.
Area Code: 540
$2,950
Winchester Rifles - Model 53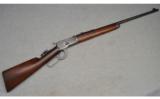 Seller: Cabelas Fort Worth
Area Code: 817
Was $1,799.99 Now $1,709.88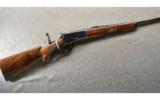 Description: This is a very nice and close to new looking Browning made Winchester Model 53 rifle in .32-20 Win. The rifle has a 22 inch gloss blue barrel with factory sights. The walnut stock and mat
...Click for more info
Seller: Cabelas Owatonna
Area Code: 507
$1,499.99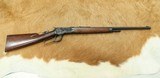 Winchester Model 53. 25-20 Takedown 22" Lyman Tang sight. Nickel Steel ALL original. Proof mark. 1927 WCF. Some wear on receiver. Great bore shiny, very nice in/out. No box or paperwork. Pre-own
...Click for more info
Seller: Old West Guns Las Vegas
Area Code: 702
$2,250.00

Very Fine Winchester 53 Takedown .32-20 Rifle. Very neat gun in very fine to excellent condition. Made in 1927 .32-20 caliber. The barrel has 99% plus of the original finish. Frame has around 50%. Woo
...Click for more info
Seller: Collectors Firearms
Area Code: 713
3,995.00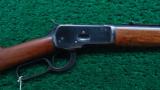 25-20 cal. The model 53 is a very popular gun. We have a hard time keeping them on the shelf. This one has most blue remaining. Thinning in some spots. Unfortunately someone has stamped in the letters
...Click for more info
Seller: LeRoy Merz Antique Guns
Area Code: 218
$ 1,875.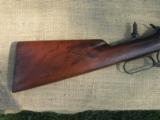 WINCHESTER MODEL 53 CAL. 25-20 WCF TAKEDOWN SERIAL 98897X, 22 ROUND BARREL WITH EXCELLENT BORE & FACTORY SIGHTS. LYMAN PERIOD TANG PEEP SIGHT. 20% RECIEVER BLUE 80% PLUM. 85% BARREL BLUE. Nice or
...Click for more info
Seller: mmriflemakers
Area Code: 828
$1,849.00

Here's a super rare Model 53 with a pile of original factory condition!!! Stainless steel barreled Winchester levers are like finding hen's teeth but to find one with the original "Japan bl
...Click for more info
Seller: Fox River Sporting
Area Code: 315
$2995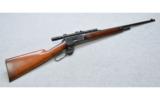 Seller: Cabelas Hazelwood
Area Code: 314
Was $1,999.99 Now $1650.66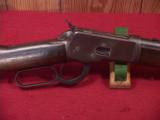 WINCHESTER MODEL 53 32-20 (32 WCF) LEVER ACTION RIFLE, BARREL AND RECEIVER TURNING BROWN, GOOD SOLID WOOD SHOWING HUNTING USE, DECENT BORE WITH A LITTLE LIGHT PITTING, SN. 6262, MADE 1926. WE HAV
...Click for more info
Seller: WILDWOOD INC
Area Code: 207
$1,795.00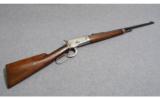 Seller: Cabelas Tulalip
Area Code: 360
$1,499.99