Featured Gun Classifieds American Arms Shotguns
This is a very RARE High Grade 7 American Arms Co. G.H. Fox Patent side swing 10 gauge SXS hammer shotgun. It has 30 inch mirror bores and no damage or dings, with very fine pattern Damascus barrels.
...Click for more info
Seller: 1898ANDB-4
Area Code: 707
$3,625.00
American Arms Shotguns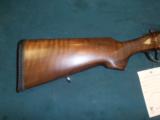 American Arms, Waterfowl model, 12ga with 3.5" chambers. Comes with a single selective trigger, auto ejectors and two factory screw in chokes. nice clean gun. SN is Z79xx. Email me if you w
...Click for more info
Seller: Michael Murphy & Sons
Area Code: 316
$799.00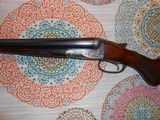 Fox AE grade 12 gauge with Kautzky single trigger. Excellent example. Bores excellent. Choked IC (R), MOD (L). Callahan letter of history included. Super nice shotgun.
...Click for more info
Seller: Timber cruiser
Area Code: 229
$2950.00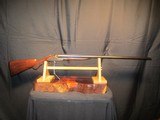 KNICINBOCKER MADE BY BAKER ARMS COMPANY 12GA ALL ORIGINAL FINISH, BARREL BLUE 98%, RECEIVER AND SIDE LOCKS HAVE 65% CASE COLORS, LOCKS HAVE COCKING INDICATORS AND THE MECHANICS ARE
...Click for more info
Seller: MAX T. FRANCE
Area Code: 716
$325.00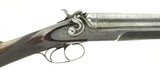 American Arms Company Swing-Out 12 Gauge shotgun. Side-by-Side swing-out hammer shotgun manufactured circa 1880's with 28" Damascus barrels and double triggers. Wood is very good, with a m
...Click for more info
Seller: Collectors Firearms
Area Code: 713
1,075.00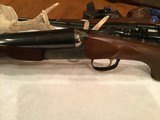 American Arms 12 ga Gentry Model , 3" chambers , SST, double shotgun . Made in Spain by Zabala Hermanos . Choked full and full 28" barrels . As new with 1 imperfection in wood as shown i
...Click for more info
Seller: Roger Berryhill
Area Code: 254
$600.00 shipped to most of 48 , new price
American Gun Co Side By Side Shotgun 12 GA W.F. & Co marked on each side of receiver and on underside of barrels 20" side by side Damascus barrels marked "Genuine Laminated Steel
...Click for more info
Seller: Elephant & Castle Fine Arms
Area Code: 417
$3,795.00
20 ga. 3 inch American Arms Derby with 3 inch chambers, made by Zabala Hermanos. Straight English style stock with long tang. Tang and trigger guard are blued and have light engraving on them. Little
...Click for more info
Seller: Cedar Creek Sam
Area Code: 609
$1,500 OBO
American Arms Brittany 12 Gauge shotgun. Side by side shot gun with 26" barrels in excellent condition.
...Click for more info
Seller: Collectors Firearms
Area Code: 713
1,295.00
Pre-Owned - American Arms 12 Gauge Shotgun Action: Over/Under Barrel: 28" Capacity: 2 Chambers: 3" Chokes: Full/ Cylinder Gauge: 12 Stock: Dark Wood Please call the Sporti
...Click for more info
Seller: The Sporting Shoppe
Area Code: 401
$450.00
For Sale this New In The Box, American Arms Silver II, 12 Ga Over And Under Shot Gun! Has 26" Vent Rib Barrel with (3) Choke tubes and 3" Chambers! Feat
...Click for more info
Seller: STJ
Area Code: 517
$750.00
AMERICAN ARMS CO. BOSTON FOX MODEL SWING OUT HAMMER DOUBLE, 12GA 26", GOOD DAMASCUS PATTERN, FAIR BORES WITH SOME PITTING, BARRELS THIN AT MUZZLE, NICE SCROLL ENGRAVING ON RECEIVER, GOOD WOOD,
...Click for more info
Seller: WILDWOOD INC
Area Code: 207
$950.00
American Gun Company of New York 20 gauge side by side shotgun, 27 5/8 inch barrels, modified and full choke. This little gun has been refinished and looks like new. Double triggers, extractors, woo
...Click for more info
Seller: Up in Arms
Area Code: 352
$597.00