Sorry! You're too late.
The Army & Navy 12 Gauge Sidelock GI# 100267264 has been sold.
Click
here
to see what else is available by Willoughby McCabe & Co..
View other listings in this category....
Army Navy Shotguns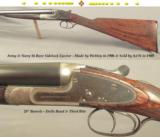 #45968, Army & Navy C. S. L., London: A Back Action Sidelock Ejector 16 Bore Game Gun Made by Webley & Scott in 1906 and sold by Army & Navy in 1908, 28" Ejector Dovetail Lump Barrels
...Click for more info
Seller: Champlin
Area Code: 580
$3,950.00

Seller: New London Arms Co.
Area Code: 704
$2995 Sale Price

Hammerless Sidelocks - Manufactured 1910 this classic English sidelock has a great length of pull and general stock dimensions. Who says you can only get a boxlock for three thousand dollars?? *** No
...Click for more info
Seller: Vintage Doubles
Area Code: 509
$3,000.00

Hammerless Sidelocks - This is a great little 20g. with recent nitro proofs. The gun as an extra bonus comes with full length Briely 28g tubes! *** Note: To see this gun with high resolution photos a
...Click for more info
Seller: Vintage Doubles
Area Code: 509
$4,100.00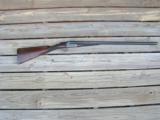 A very nice gun in extremely good condition. Excellent bores, 2&1/2" chambers, tight and on face, #2 of a pair. Barrels in proof, rt proofed 13 and measures .715", cyl choke. Left proofe
...Click for more info
Seller: Bertrams
Area Code: 303
1650$