Featured Gun Classifieds Gibbs Shotguns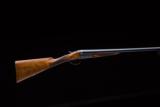 G. Gibbs Boxlock Non-Ejector 12g Game Gun. Fitted with 28 ¼" shoe lump barrels, with 2 ½" chambers and choked 1/4 & Half (Imp. Cyl/Mod.), with a smooth concave game rib, a
...Click for more info
Seller: Westley Richards
Area Code: 850
Sold
Gibbs Shotguns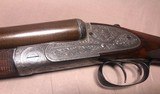 George Gibbs Grade III 12g 30" Damascus bbls Very good SN- E474 6 3/4 lbs Comb 1 3/4" Heel 2 3/4" LOP 14 5/8" to wood butt Cast 1/4" off 30" bbls SKT/MOD Extr
...Click for more info
Seller: Orvis
Area Code: 802
$5000.00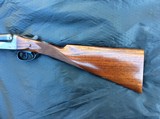 Seller: ESA
Area Code: 401
$2200

George Gibbs Best Game Gun BLE 12 Gauge made in England. English straight stock, nice checkering and scroll engraving adorn this nice piece.
...Click for more info
Seller: Bass Pro Shops Springfield
Area Code: 417
Reg. $2,749.99**SALE $2,100.00**SAVE $649.99**

George Gibbs SxS Boxlock Shotgun 12 bore 28" barrels have been sleeved to accept modern loads Boxlock action with scroll engraving with noted maker "George Gibbs" prominentely e
...Click for more info
Seller: Elephant & Castle Fine Arms
Area Code: 417
$3,495.00
Beautiful Baby Frame .410, One of the Lightest We Have Ever Came Across Weighing in at Under 4lbs., Marked 2 1/2" Chambers but they Measure 3", Reproofed in 2007.
...Click for more info
Seller: Kevins of Thomasville
Area Code: 229
$6995