Sorry! You're too late.
The AMERICAN ARMS PRESENTATION FOX PATENT HAMMER SXS SIDE OPENER 12 GAUGE GI# 101059813 has been sold.
Click
here
to see what else is available by Steve Barnett Fine Guns.
View other listings in this category....
American Arms Shotguns
This is a very RARE High Grade 7 American Arms Co. G.H. Fox Patent side swing 10 gauge SXS hammer shotgun. It has 30 inch mirror bores and no damage or dings, with very fine pattern Damascus barrels.
...Click for more info
Seller: 1898ANDB-4
Area Code: 707
$4,295.00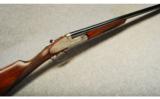 Seller: Cabelas Scarborough
Area Code: 207
$999.99
American Gun Co Side By Side Shotgun 12 GA W.F. & Co marked on each side of receiver and on underside of barrels 20" side by side Damascus barrels marked "Genuine Laminated Steel
...Click for more info
Seller: Elephant & Castle Fine Arms
Area Code: 417
$3,995.00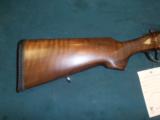 American Arms, Waterfowl model, 12ga with 3.5" chambers. Comes with a single selective trigger, auto ejectors and two factory screw in chokes. nice clean gun. SN is Z79xx. Email me if you w
...Click for more info
Seller: Michael Murphy & Sons
Area Code: 316
$799.00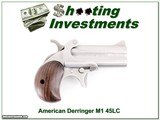 This is an excellent condition American Derringer. It shoots 45 Colt and 2.5in 410 shells. I am selling this one on consignment and as such lay-a-way can't be used. It does of course have the st
...Click for more info
Seller: barrybrowning
Area Code: 919
$399.00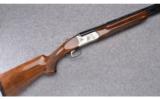 Wood shows a few light scuff marks and dings. Remainder is solid with excellent functionality. No box.
...Click for more info
Seller: Cabelas Wheeling
Area Code: 304
$799.99
For Sale this excellent Condition 20 Ga Over And Under Shot Gun! Has 26" Vent Rib Barrel with (4) Choke tubes and 3" Chambers! Features Barrel Selectors, and automa
...Click for more info
Seller: STJ
Area Code: 517
$700.00
#718 AMERICAN ARMS O/U SILVER UPLAND LITE, 28 ga. 2 3/4, SN A810XX, 26" bbls., ventilated rib, SST, checkered walnut stock & forend, engraved frame, recoil pad, 13 3/4" length of pull.
...Click for more info
Seller: Jim Goergen
Area Code: 507
$775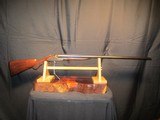 KNICINBOCKER MADE BY AMERICAN ARMS COMPANY 12GA ALL ORIGINAL FINISH, BARREL BLUE 98%, RECEIVER AND SIDE LOCKS HAVE 65% CASE COLORS, LOCKS HAVE COCKING INDICATORS AND THE MECHANICS AR
...Click for more info
Seller: MAX T. FRANCE
Area Code: 716
$325.00

American Arms Gentry 20 Ga Shotgun. Side by side field gun with 27½" full/modified barrels, single selective trigger and auto ejectors. Excellent condition.
...Click for more info
Seller: Collectors Firearms
Area Code: 713
1,195.00

12 Ga; 95% blue, excellent bore, very good stock, 28'' barrel, 3" chamber Full choke. Made in Italy. Buttplate has a small chip at lower screw. Please call (309)342-5800 Tues-Fri, 10 a
...Click for more info
Seller: Simpson Ltd
Area Code: 309
$150.00
AMERICAN ARMS CO. BOSTON FOX MODEL SWING OUT HAMMER DOUBLE, 12GA 26", GOOD DAMASCUS PATTERN, FAIR BORES WITH SOME PITTING, BARRELS THIN AT MUZZLE, NICE SCROLL ENGRAVING ON RECEIVER, GOOD WOOD,
...Click for more info
Seller: WILDWOOD INC
Area Code: 207
$950.00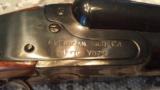 American Gun Company of New York 20 gauge side by side shotgun, 27 5/8 inch barrels, modified and full choke. This little gun has been refinished and looks like new. Double triggers, extractors, woo
...Click for more info
Seller: Up in Arms
Area Code: 352
$597.00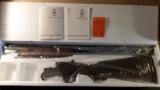 Please read the Item Characteristics for important listing details. Up For Sale Is a NIB American Arms Inc: Model Silver I : Includes All The Original Paperwork: 12
...Click for more info
Seller: Dragon34Wagon
Area Code: 509
$799.99