Featured Gun Classifieds Heym Shotguns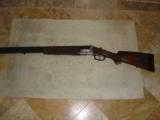 HEYM – O/U Boxlock, Ejector 20ga -28" Barrels -Coined finish receiver engraved with game scene with engraved metal capped pistol grip -Horned trigger guard -Double cocking indicat
...Click for more info
Seller: Zadeh
Area Code: 310
2,550
Heym Shotguns
F.W. HEYM CASE HARDENED SIDEPLATE BOXLOCK 16GA S/S SHOTGUN, MODEL A, 1928 MFG DATE, SIDECLIPS WITH COCKING INDICATOR, BEAUTIFUL GAME SCENE ENGRAVING, 28: BBLS WITH DOLLSHEAD 3RD FDASTENER, PRIMA KRUPP
...Click for more info
Seller: Safari Outfitters Ltd.
Area Code: 845
$4,750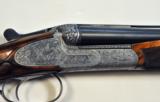 #2196 Heym Ser. No. 26159. 28Ga.- 28" Krupp barrels choked open. Best quality SXS with single trigger and beautiful engraving and french walnut. Wt.- 5 lbs 12 ozs. 14 3/4" pull to a leather covered
...Click for more info
Seller: Roger Bain Inc.
Area Code: 717
$22,500.00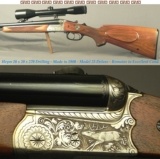 #51083, Heym 20 x 20 x 270 Win. Drilling Made in 1980 That Remains in Excellent Original Condition, Boxlock Model 33 Deluxe with Game Scene Engraving, The 25" Krupp Special extractor barrels with
...Click for more info
Seller: Champlin
Area Code: 580
$5,950.00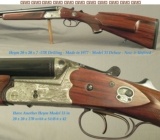 #50533, Heym 20 x 20 x 7x57R Drilling Made in 1977 that remains New & Unfired, Boxlock Model 33 Deluxe with Game Scene Engraving, The 25" Krupp Special extractor barrels with a rib extension
...Click for more info
Seller: Champlin
Area Code: 580
$5,250.00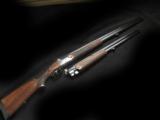 An older Heym (1966) that has seen very little careful use, usefully fitted with 2 sets of barrels numbered to the action. Game scenes adorn the double Kersten bolt action finished in French Gray with
...Click for more info
Seller: doublegunhq
Area Code: 325
$6,750.00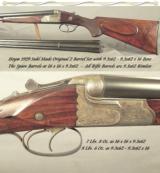 #5952, Fr.Wilh. Heym, Suhl: A Heym Suhl Made 1929 Double Rifle Drilling Original 2 Barrel Set, Barrels numbered 1 & 2; #2 barrel is a 9.3 x 62 (Mauser Rimless) x 9.3 x 62 x 16 gauge, The #1 barrel
...Click for more info
Seller: Champlin
Area Code: 580
$11,500.00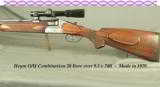 #55751, Heym O/U Combination 20 Bore over a 9.3 x 74R on their Kersten Action Body & Made in 1978, It is with 25" Extractor Krupp Steel barrels with a full length solid rib with 1 two way fol
...Click for more info
Seller: Champlin
Area Code: 580
$5,500.00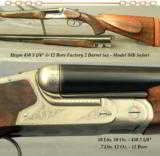 #82041, Heym 450 3 1/4" Nitro Express Model 88B Safari with a Factory Original Spare Set of 12 Bore Barrels, Made 1988 as a 458 Win. Mag. and our shop chambered it and regulated it for the 450 3
...Click for more info
Seller: Champlin
Area Code: 580
$18,500.00