Sorry! You're too late.
The LeBeau Courally "Nemrod" 12 Gauge 2 Gun Pair GI# 101603275 has been sold.
Click
here
to see what else is available by FINEFIREARMS.COM.
View other listings in this category....
Featured Gun Classifieds Lebeau Courally Shotguns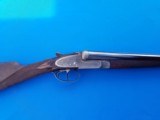 This is a rare 20 gauge August Lebeau double barrel shotgun, side locks, extractors, factory 2 3/4 inch chambers, ordered and shipped in 1912 to Russia. Included is a copy of the factory Ledger sheet
...Click for more info
Seller: Jacob Hranowskyj
Area Code: 804
$28,000.00

LEBEAU COURALLY, IMPERIAL SIDELOCK 12GA S/S PIGEON GUN, 1920MFG DATE, HAND DETACHABLE LOCKS, AND SIDECLIPS, COIN FINISH WITH ORNAMENTAL FLORAL SCROLL BY DELVENNE, 28" CHOPPER LUMP BBLS, DOLLSHEAD
...Click for more info
Seller: Safari Outfitters Ltd.
Area Code: 845
$24,995.00
Lebeau Courally Shotguns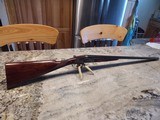 Lebeau Courally Best Quality 20ga built in the Golden Years of the company under the ownership of Mr Joseph Verrees in 1963 by the Best Craftsmen available. Gold plated internals 26 13/16" barrel
...Click for more info
Seller: Youngs Sporting Arms
Area Code: 956
10,750.00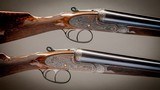 A pre-owned 12 gauge pair of Lebeau Courally Imperial Extra Lux Sidelock Ejector Shotguns with 27 3/4 inch barrels.Double trigger and automatic safety. Action Calibre: 12-gauge Action: Sidelock E
...Click for more info
Seller: Holland & Holland
Area Code: 203
$84,500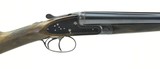 "Lebeau Courally Sidelock Ejector 12 Gauge shotgun. Lebeau Courally 12 Gauge side by side double. Barrels length is 27½". Auto ejectors, double triggers. Chambers are 2¾". C
...Click for more info
Seller: Collectors Firearms
Area Code: 832
$6,750.00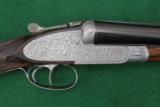 LeBeau Courally 12 Gauge Engraved by M. Hannay 29 inch Length of Barrel 14 1/2 Length of Pull 1 3/8 Drop at Comb 2 3/16 Drop at Heel 6lbs 14oz 2 3/4 Chamber
...Click for more info
Seller: FINEFIREARMS
Area Code: 800
$22,500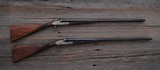 Lebeau-Courally - Courally Princess Paola Pair - 12 ga - Item Number: LEB44036-7 Shotgun type: SxS Action: Sidelock Ejectors: Yes Trigger: Double Grip: Straight Grip F
...Click for more info
Seller: Griffin & Howe
Area Code: 973
$25,000.00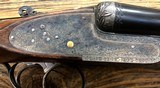 AUG. LEBEAU-COURALLY IMPERIAL EXTRA LUX A PAIR OF 12 - BORE SIDELOCK EJECTORS, serial no. 43453 / 4, 28 in. nitro barrels, the ribs gold-inlaid '1' and '2' at the breech ends, the tubes engraved '
...Click for more info
Seller: Bwanapete
Area Code: 720
$27,500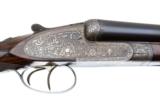 29 1/2" BARRELS 019 AND 019 2 3/4 DOUBLE TRIGGER EJECTORS SPLINTER FOREARM ENGLISH GRIP EXCELLENT CONDITION 7LBS 1 OZ 2 1/4 DAH 1 9/16 DAC 15 1/8 LOP 1 1/2" EXTENSION
...Click for more info
Seller: Steve Barnett Fine Guns
Area Code: 662
$22,500.00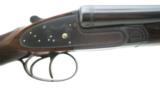 ***WE BUY & CONSIGN FIREARMS*** Lebeau-Courally - Sidelock Ejector - 12 ga - Item Number: LEB36944.2 Shotgun type: SxS Action: Sidelock Ejectors: Yes Trigger: Double Grip
...Click for more info
Seller: Griffin & Howe
Area Code: 973
$7,495.00 Reduced to $6,547.50

Aug. Lebeau - SLE - 20 ga - Item Number: AUG41890 Shotgun type: SxS Action: Sidelock Ejectors: Yes Trigger: Double Grip: Straight Grip Forend: Checker
...Click for more info
Seller: Griffin & Howe
Area Code: 973
$11,000.00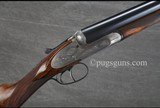 Seller: Puglisi Gun Emporium
Area Code: 218
$11,500.00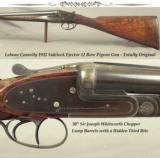 #42703, Aug. Lebeau Courally cant a Liege: A 12 Bore Pre-War 1932 Bar Action Holland System Sidelock Ejector Pigeon Gun "tir aux pigeons", Original 30" Ejector Chopper Lump Sir Joseph W
...Click for more info
Seller: Champlin
Area Code: 580
$7,850.00