Sorry! You're too late.
The J P Sauer 12 ga pin fire GI# 100992792 has been sold.
Click
here
to see what else is available by Roger Berryhill.
View other listings in this category....
Pinfire Shotguns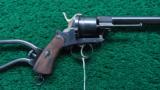 This is a 6-shot pinfire in approximately 12mm with 17 inch barrel. I believe it to be a model 1854 double action pistol-carbine. Serial number is 27. Also on this gun is a metal detachable shoulder s
...Click for more info
Seller: LeRoy Merz Antique Guns
Area Code: 218
$ 3,750.
French built (cant find a makers name) side by side, hammer, 16ga 30", pinfire! gun is in really good shape, considering its age. even still has the factory steel butt plate! Bores do have some p
...Click for more info
Seller: Michael Murphy & Sons
Area Code: 316
$999.00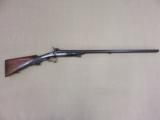 We have not seen very many shotguns that have the workmanship of this 1850's Belgian Pinfire Double Barrel in this price range. The combination of fine engraving, carved buffalo horn, hand-f
...Click for more info
Seller: Antique & Modern Firearms, Inc.
Area Code: 859
$950.00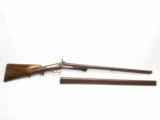 This is a refurbished pinfire rifle/shotgun 2 barrel set with 16 gauge / 58 caliber barrels and 16 gauge barrels. This gun was made by L. Klingler in Karlsruhe, Germany. The 26-¼&rdqu
...Click for more info
Seller: The Gun Works
Area Code: 541
$3,250.00

This is a very beautiful Belgium proofed 16 Ga Pinfire Under-Lever shotgun. The 34" Damascus barrels with Belgian proof marks has a bead front sight mounted on the rib. The ri
...Click for more info
Seller: The Gun Works
Area Code: 541
$1,250.00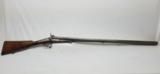 This is an original Belgium double 16 Gauge Pinfire Under Lever shotgun. The damascus barrels with patina is fitted with a rib mounted front bead sight. Both barrels show light sca
...Click for more info
Seller: The Gun Works
Area Code: 541
$450.00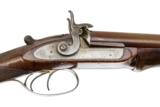 27 1/2" DAMASCUS BARRELS CYLINDER AND CYLINDER DOUBLE TRIGGER EXTRACTORS ENGLISH GRIP ORIGINAL CONDITION
...Click for more info
Seller: Steve Barnett Fine Guns
Area Code: 662
$2,950.00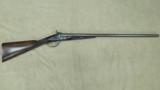 Very nice Pin Fire English shotgun. Beautiful stock and forend, nicely checkered. Barrels have defined Damascus on outside of barrels, bores are good with some pitting as would be expected
...Click for more info
Seller: OnMark USA
Area Code: 336
$875.00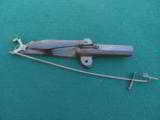 Seller: Pinfire
Area Code: 423
$850.00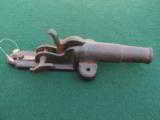 Seller: Pinfire
Area Code: 423
$650.00