Sorry! You're too late.
The Kevin's/Poli Deluxe Hammer 28ga 30" GI# 101046014 has been sold.
Click
here
to see what else is available by Kevins of Thomasville.
View other listings in this category....
Poli Shotguns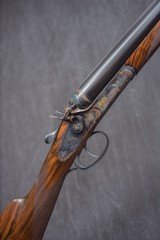 TATE Vintager 16 gauge Hammer Gun SxS, Designed and actioned by Dale Tate, Turnbull case colored rounded sidelock F.lli Poli action, Rose & scroll engraving by Charles Lee, 2 3/4" ch., 2
...Click for more info
Seller: Fieldsport LTD
Area Code: 231
$17,995.
Maker: F.lli Poli Model: Opal Sporting Gauge: 12 Barrels: 30" Chokes: Variable L.O.P. : 14 3/8" Drop: 1 3/8" C x 2" H Weight: 7 lbs 4oz Ser. #: 2400 Stock #: 8960 Price: $5,950 New or Used: Used
...Click for more info
Seller: Robin Hollow Outfitters
Area Code: 401
$5,950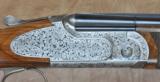 Pre owned in excellent condition, Armi Fli Poli Kevin's Plantation 28 gauge game gun. Side plate with full engraving, 28" c/t barrels (5) chokes included. Ventilated rib. Field stock with Pri
...Click for more info
Seller: Pacific Sporting Arms East
Area Code: 248
$6,495.00
Maker: F.lli Poli Model: SLE Gauge: 12 Barrels: 27" Chokes: M - F L.O.P. : 14 5/8" Drop: 1 1/2" C x 2 1/8" H Weight: 6 lbs 15 oz Ser. #: 13052 Stock #: 7472 Price: $22,000 New or Used: Used
...Click for more info
Seller: Robin Hollow Outfitters
Area Code: 401
$22,000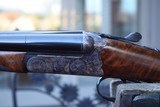 Poli .410 Bore, Upland Extra, A5 Scalloped Fully Engraved, Case Colored Boxlock Ejector. Imported by Tate Gunmakers of California, Double Triggers, Blued Triggers and Trigger Guard,
...Click for more info
Seller: orionbuy
Area Code: 806
SOLD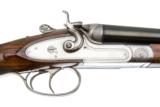 29" BARRELS WITH BRILEY CHOKES 2 3/4 CHAMBERS DOUBLE TRIGGER EXTRACTORS SPLINTER FOREARM ENGLISH GRIP CHECKERED BUTT WITH HEEL AND TOE PLATES UPGRADE WOOD EXCELLENT CONDITION 7LBS 1 OZ 2
...Click for more info
Seller: Steve Barnett Fine Guns
Area Code: 662
$9,950.00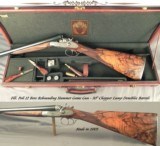 #1987, Armi F.LLI Poli, via Matteotti, 311, 1-25063 Gardone, VT Brescia, Italy: A 12 Bore Back Action Sidelock Rebounding Hammer Gun Finished in 2003, 30" Extractor Chopper Lump Demibloc (Lower M
...Click for more info
Seller: Champlin
Area Code: 580
$11,950.00
Beautifully engraved and case colored scalloped receiver on this Italian beauty. Filli Poli is a highly respected maker of shotguns located in the Val Trompia gunmaking area of Italy. Highly figured
...Click for more info
Seller: MacNab
Area Code: 704
$4,495
100% Handmade by Poli, Hand Engraved Deep Chisel Engraving by the Famous Stephano Pedretti a Friend of Kevin, Features Very High Polish Drop Trigger Group, Checkered Butt, Scalloped Reciever, Perfect
...Click for more info
Seller: Kevins of Thomasville
Area Code: 229
$34,995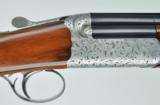 100% Handmade by Poli, Hand Engraved Deep Chisel Engraving by the Famous Stephano Pedretti a Friend of Kevin, Features Very High Polish Drop Trigger Group, Checkered Butt, Scalloped Reciever, Perfect
...Click for more info
Seller: Kevins of Thomasville
Area Code: 229
$34,995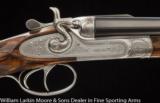 ID #6545 Make F.LLI POLI Model BEST SELF-COCKING EJECTOR HAMMER GUN Configuration Hammer Gauge / Caliber 20 GA Price
...Click for more info
Seller: William Larkin Moore & Sons
Area Code: 480
$20,000.00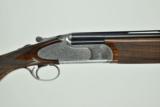 Hand Checkered, Hand Oiled Stock, Wooded Butt Plate with Quail Logo, Exhibition Grade Wood, POW Grip, Long Tang Trigger Guard to Engraved Grip Cap
...Click for more info
Seller: Kevins of Thomasville
Area Code: 229
$9,995
Kevin's Plantation Collection Side by Side 28ga 28". Designed by Kevin Manufactured by Poli of Italy. Hand Filed Flat Rib, Deep Chiseled Scroll Engraving, Polished Trigger, Dual Rolled Edge T
...Click for more info
Seller: Kevins of Thomasville
Area Code: 229
$10,995