Sorry! You're too late.
The NORINCO MODEL 99 DOUBLE BARREL HAMMER STAGE COACH STYLE GUN GI# 100928895 has been sold.
Click
here
to see what else is available by LeRoy Merz Antique Guns.
View other listings in this category....
Replica Shotguns
Brand New in the Box! Ready to Ship! Buy It Now!! Designed by John M. Browning for the Winchester Repeating Arms Company, the 1887 lever action shotgun is considered to be the first successfu
...Click for more info
Seller: Elk County Ammo and Arms
Area Code: 814
$999.99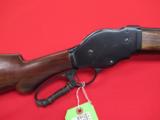 Blued frame and barrel, brass bead front sight, Cylinder bore, tuned up action for Cowboy Action Shooting.
...Click for more info
Seller: Jaqua's Fine Guns Inc
Area Code: 419
$450.
Brand New in the Box! Ready to Ship! Buy It Now!! Designed by John M. Browning for the Winchester Repeating Arms Company, the 1887 lever action shotgun is considered to be the first successfu
...Click for more info
Seller: Elk County Ammo and Arms
Area Code: 814
$999.99