Sorry! You're too late.
The VICTOR SARASQUETA 12 GAUGE LIVE PIGEON GUN - 30" VENT RIB BARRELS - CASED GI# 101101882 has been sold.
Click
here
to see what else is available by A-Coin and Stamp Gallery Inc.
View other listings in this category....
Sarasqueta Shotguns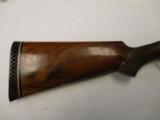 Here is a nice little gun! Sarasquesta made Zephyr uplander. This is a 20ga full side lock gun! 2.75" chambers, double trigger, auto ejectors. Fixed chokes IC and Mod. LOP is 15". Very nice
...Click for more info
Seller: Michael Murphy & Sons
Area Code: 316
$1,299.00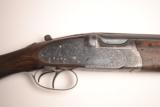 J.J. Sarasqueta 12ga., 29 ½ "barrels, choked F/F, solid rib, double trigger front hinged. Auto Ejector, semi pistol grip, teardrop stock, bold scroll engraving. This gun is a
...Click for more info
Seller: Connecticut Shotgun
Area Code: 860
$2,850.00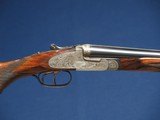 JJ Sarasqueta game scene sidelock 410. 3 inch chambers. 27.5 inch IC and Mod. .007 & .014. Double triggers. Extractors. 14 1/2 LOP butt plate. Beaver tail forearm. 96-97%. Excellent bores.
...Click for more info
Seller: Crosnoe Guns
Area Code: 573
$2,450.00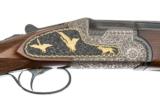 28" VENT RIB 018 AND 043 2 3/4 SINGLE SELECT TRIGGER EJECTORS FIELD FOREARM PISTOL GRIP EXCELLENT WITH HANDLING MARKS 7LBS 8 OZ 2 1/2 DAH 1 3/8 DAC 14 1/4 LOP
...Click for more info
Seller: Steve Barnett Fine Guns
Area Code: 662
$1,695.00
SARASQUETA SXS 20GA 28" F/F, DT, EXTRACTOR, BEAVER TAIL, PISTOL GRIP, 97% BARRELS WITH SOME FRECKLING, 97% CASE COLORS, EXC. BORES, GOOD WOOD WITH FINISH MARKED UP
...Click for more info
Seller: WILDWOOD INC
Area Code: 207
$595.00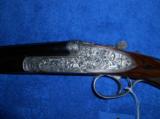 For sale, Victor Sarasqueta ejector double rifle, 2 bbl set. One set is a .410 Shotgun , the other is 8x57 R Double Rifle, with makers case. The rifle sports a pistol grip stock with kidne
...Click for more info
Seller: DEER HUNTER GUNS
Area Code: 727
$18,999.00