Sorry! You're too late.
The J.P. Sauer and Sons Model 40E 12ga/28" Prussian Mfg. (USED) GI# 100652402 has been sold.
Click
here
to see what else is available by Jaqua's Fine Guns Inc.
View other listings in this category....
Sauer Shotguns - Prussian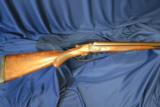 A Prussian EMPIRE GRADE made Charles Daly SXS 12 ga. 2 1/2" chambers with a 26" Improved cylinder/skeet chokes. Double triggers. The bores are bright and shiny. The shotgun has been som
...Click for more info
Seller: Old Centurion
Area Code: 352
$1275 REDUCED!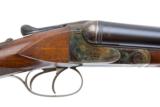 #191XXX 28" 014 AND 037 2 1/2" CHAMBERS DOUBLE TRIGGER EXTRACTORS SPLINTER FOREARM PISTOL GRIP NEW ORIGINAL CONDITION 6LBS 5 OZ X 2 3/4 X 1 9/16 X 14 1/4
...Click for more info
Seller: Steve Barnett Fine Guns
Area Code: 662
$2,650.00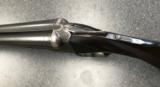 Here is a Prussian (Pre-WWI) J.P. Sauer double shotgun. It is chambered in 12g. with 2-3/4" chambers. The Krupp steel barrels are 28" long and are choked .006" and .032&quot
...Click for more info
Seller: bmdgunstocks
Area Code: 585
1300 (reduced)

J. P. SAUER - S X S BOXLOCK EXTRACTORS - 30" BARRELS MOD./FULL - SEMI PISTOL GRIP - LOP 13" TO END OF WOOD - PRESENT PAD NEEDS REPLACING - DROPS COMB 1 11/16" X HEEL 2
...Click for more info
Seller: Stephen Cobb Quality Guns
Area Code: 908
$900.00
J. P. SAUER & SOHN BLE Field, 16 gauge Boxlock O/U, 2 1/2" ch., 27 1/2" bbls. w/ Solid flat filed rib, Choked Bottom .005/ Skt 1, Top .011/ Skt 2, Ejectors, Double trigger
...Click for more info
Seller: Fieldsport LTD
Area Code: 231
$2,495. Price Just Reduced!