Sorry! You're too late.
The Siace Macnab Teal 28 gauge Boxlock Ejector Shotgun with 29 inch barrels GI# 102195688 has been sold.
Click
here
to see what else is available by Holland & Holland.
View other listings in this category....
Siace Shotguns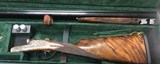 99% SIACE Superlight EL Round Body 28ga, 30"Bbl. Ejectors. Double triggers, fixed choke (F,F) unfired comes with case and 2 snap caps LOP-14.5 DAC- 1 3/8 DAH- 2 1/4
...Click for more info
Seller: LBF
Area Code: 443
$9,999.00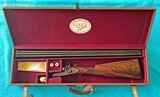 S.I.A.C.E. Hammer Sidelock SXS 20 Ga., 28" Bl. -- Mint with case Description: Fabbrica d'Armi SIACE of Gardone, Val Trompia, Italy, a best maker – this is a hammer sidelock gun in
...Click for more info
Seller: rcrwin70
Area Code: 808
$11,750.00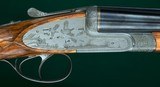 27 1/2" SxS chopper-lump barrels with flat matted rib and brass bead front sight, gold-banded at breech, choked modified & full. 14 3/8" pull from articulated front trigger to checkered
...Click for more info
Seller: Hallowell & Co.
Area Code: 406
$14,250.00