Featured Gun Classifieds Winchester Shotguns - Antique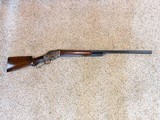 This Winchester shotgun was produced in 1890. The shotgun's serial number is 25788. It has the 30 inch 12 gauge barrel. The magazine retainer is the early style. The forend slabs are retained by o
...Click for more info
Seller: HLV Fine Guns
Area Code: 928
$5995.00
Winchester Shotguns - Antique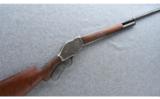 Seller: Cabelas Post Falls
Area Code: 208
$1,299.99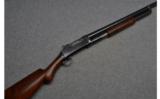 A rare Winchester 1893 pump action shotgun in 12 gauge. A surviving example of John Brownings first pump shotgun. Made in 1895.
...Click for more info
Seller: Cabelas Woodbury
Area Code: 612
$499.99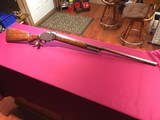 This 1887 12 ga Shotgun is first year production ,made in 1887 SN# 2599 very nice bore very good and soild wood stock, locks up very tight,30" full choke,all original . Questions call Richard at
...Click for more info
Seller: Shortcolt44-40
Area Code: 406
$1,399.00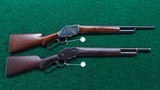 Selling as a pair. These come with a Letter of Authenticity from Bob Shelley, President of Special Effects International, listing the guns by serial number as being used in the Western "Longarm&q
...Click for more info
Seller: LeRoy Merz Antique Guns
Area Code: 218
$ 2,975. for the pair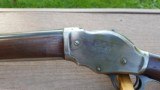 WINCHESTER MODEL 1887 LEVER ACTION SHOTGUN 12GA. FACTORY ORIGINAL BLUE 95% BARREL, RECEIVER HAS SOME CASE COLOR WITH INTERNAL PARTS HAVING 35 % ORIGINAL CASE COLORS. BARREL LENGTH 30"
...Click for more info
Seller: MAX T. FRANCE
Area Code: 716
$1,795.00

Antique Winchester 1873 .22 short good condition lever with 26" barrel. Made in 1889. 4% Credit Card Fee $50.00 Shipping FFL required for shipping; All items shipped Priority Mail
...Click for more info
Seller: moby
Area Code: 540
$3,400.00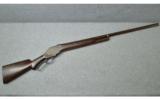 Seller: Cabelas Centerville
Area Code: 937
$1,199.99

Seller: Caliber Sports
Area Code: 205
695 obo

Available is this solid, matching functional Winchester Model 1897 12 gauge. This shotgun has a 30" barrel with a "FULL" choke, according to the barrel stamp. Front and back
...Click for more info
Seller: The Firing Line
Area Code: 303
$699.99