Winchester Shotguns - Model 12 Diamond Grade
Featured Gun Classifieds Winchester Shotguns - Model 12 Diamond Grade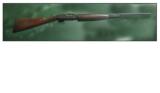 Winchester Model 12, 12 Gauge, factory Black Diamond Grade, Factory Engraved BY Ulrich .Mfr. in 1928, 30 Inch Solid rib Barrel, Choked Full. 99% Blue and 99% Varnish. Beautiful XXX Full Figured Che
...Click for more info
Seller: Dave Riffle Gun Sales Inc.
Area Code: 239
$ 13,500
Winchester Shotguns - Model 12 Diamond Grade

WINCHESTER - MODEL 12 - BLACK DIAMOND TRAP - 12 GA. NICKRL STEEL 30" SOLID RIB FULL CHOKE ( .035) - STRAIGHTSTOCK WITH EBONY DIAMOND INLAY - JOSTAM VENTILATED RECOIL PAD HAS CO
...Click for more info
Seller: Stephen Cobb Quality Guns
Area Code: 908
$1,600.00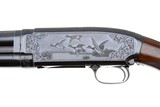 #292XXX MADE 1921 30" FULL CHOKE SOLID RIB 2 3/4 ORIGINAL CONDITION PISTOL GRIP ADDED TO ENGLISH GRIP 7LBS 12 OZ 14 LOP
...Click for more info
Seller: Steve Barnett Fine Guns
Area Code: 662
$4,950.00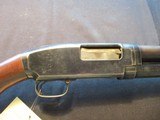 Winchester Model 12 Heavy Duck gun, 12ga, 30" Plain barrel, 3"Chamber. Factory finish on both wood and metal, Factory butt plate. Nice clean all original gun! Hard to find this nice, especia
...Click for more info
Seller: Michael Murphy & Sons
Area Code: 316
$899.00

Here is a Winchester Model 12 Black Diamond Edition in 12Ga. 30" full nickel steel MR barrel. Reblued, Checkered. Black Diamond stock. 14" LOP over origonal Winchester buttpad. Made in 1916.
...Click for more info
Seller: Caliber Sports
Area Code: 205
$1,200 obo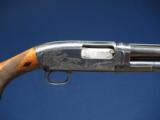 Winchester 12 20ga Black Diamond factory engraved in #4-5 pattern. 26 inch full choke solid rib. 90% original finish. SN 578,XXX. Nickel steel. AJW initials stamped on barrel and bottom of receiver. E
...Click for more info
Seller: Crosnoe Guns
Area Code: 573
$10,900.00