Sorry! You're too late.
The FACTORY ENGRAVED WINCHESTER MODEL 93 PUMP ACTION SHOTGUN GI# 101015300 has been sold.
Click
here
to see what else is available by LeRoy Merz Antique Guns.
View other listings in this category....
Winchester Shotguns - Antique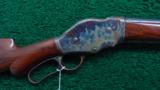 32" Barrel and mag tube retain most all original deep blued finish with a couple small patches of light pitting near the muzzle and a bright clean smooth bore with minimal scattered light pittin
...Click for more info
Seller: LeRoy Merz Antique Guns
Area Code: 218
$ 14,750.

Available is this solid, matching functional Winchester Model 1897 12 gauge. This shotgun has a 30" barrel with a "FULL" choke, according to the barrel stamp. Front and back
...Click for more info
Seller: The Firing Line
Area Code: 303
$699.99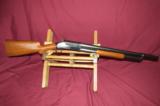 Unbelievable find. Walked into the Louisville show last week end. Winchester 1897 second year production 20 inch factory Riot Gun! The serial number of this example is 368XX placing date of manufactur
...Click for more info
Seller: Winchester Way
Area Code: 760
$4,000.00

REDUCED - Between 1879 and 1884 Winchester had side by side 10 and 12 gauge shotguns manufactured in England and brought to the US where they were serial numbered and sold under the Winchester label.
...Click for more info
Seller: Ocala Armory
Area Code: 352
$4,495.00

This shotgun is a Winchester 1887 12 gauge. This antique Winchester is dated from 1887. Good condition with brown patina and oil soaked wood finish. I.C. Choke, 30" steel barrel with fair bore.
...Click for more info
Seller: Turnbull Restoration Co., Inc.
Area Code: 585
$1,200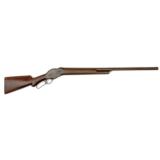 *Winchester Model 1887 Shotgun 12 gauge, 32" round barrel, S/N 9986. Blued finish, walnut pistol gripped stock and smooth forend. Lower tang with usual four-line Winchester address and pate
...Click for more info
Seller: josieemp
Area Code: 228
1100 SOLD