Add

to Favorites
Advanced Search (Help?)

Digital Assets The World of Online Gun Sales
Articles Home
Digital Assets
The World of Online Gun Sales



by Mark Kakkuri, Gun Digest contributor

Gun Digest the Magazine recently talked with David and Deb Powell to learn more about GunsInternational.com, the online gun classified website. Based in Palm Harbor, Florida, the duo sought out to connect firearm sellers and buyers and now they manage the cyber traffic that has over 30,000 guns for sale and over 1.8 million visitors to the site each month.


GDTM: Tell GDTM readers about you and the company's history.

Deb: GunsInternational.com was developed approximately six years ago and went public a little over five years ago. My husband, W. David Powell and I developed and operate the website. David brings his 45 years of hunting and gun expertise to GunsInternational.com and I am in charge of the site development and marketing.

GDTM: Why did you start Guns International?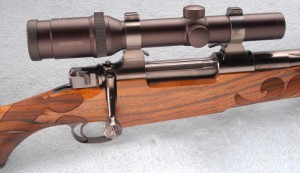 GunsInternational.com isn't just about firearms. Find knives, optics, slings, clips and other accessories.

Deb: When we decided to create GunsInternational.com we felt there was a need for a better selling venue for the antique, collectible, high grade and sporting arms. These guns, in our opinion, are not suited to the typical online auction sites where everyone is looking for a "steal" and frustrated when they are outbid in the last seconds by an automated program.

In addition, we wanted to provide sellers and buyers with better customer service that they were receiving from other online venues.

GDTM: What is customer service and why is this so important?

Deb: The stories of bad customer service we've heard in this industry would make the hairs on the back of your neck stand up. So Guns International raises the bar: we are the only major player with live phone support.

All emails are answered within 24 hours, although typically a customer gets a reply within a couple of hours. Support includes not only technical support regarding using the Web site, but also assisting the novice in advertising their gun properly.

GDTM: What are they key facets of the GunsInternational.com business?

David: In addition to the customer service we provide, Guns International's key business features include providing direct contact between seller and buyer, a three-day return policy, and the enormous selection of firearms.

We also have an advisory board of very experienced hunters and gun experts that are continually brainstorming improvements for the website. These advisory board members travel throughout the U.S. and provide valuable feedback to us on ways to improve the site. As an example of their input, all agree on the importance of offering the seller's phone number to foster communication before, during, and after the transaction.

In addition, we continue to solicit our sellers and buyers for their opinions as to what features they like best or would rather see different. Of course our overriding theme for the site is to keep it simple for both buyers and sellers.

We offer an "all verified" site: every buyer and seller is verified by phone call with a real person. And we are glad to say we have almost no returns.

GDTM: Why should a collector buy from Guns International? What do you offer?

David: Collectors enjoy using GunsInternational.com because we are the easiest online gun classified website to navigate with the largest and most desirable selection of antique, high grade, collectible and sporting arms. The most reputable dealers in the country offer their guns for sale on GunsInternational.com. Shoppers also enjoy purchasing from the many collectors who offer their own guns for sale.

The GunsInternational.com website allows a collector with perhaps only one gun to sell, to sell on the very same platform as the most well-respected dealers in the country. Buyers can browse, compare, negotiate, and purchase fine guns from the comfort of their home. We are the only site where you can pay nine dollars and sell a $100,000 firearm.

Deb: In addition, we offer one-stop shopping. When looking at these fine guns they can speak directly with the seller to have any and all questions answered instead of blindly buying without being able to talk to the owner about it. We have made the site so simple that one does not even have to register to shop the site, view complete listings, enlarge photos, or contact the seller. Just have your grandchild pull the site up and from the homepage you can click on the gun category that you like and browse the guns for sale. When you find the gun you like, just call the seller direct.

We encourage all sellers to include a phone contact. We are the only site that encourages direct contact by phone between buyer and seller so that there is a clear understanding on the gun, condition, and sale requirements. We also are the only site to have our sellers agree to a three-day, no-questions-asked return policy.

GDTM: How has business been over the last few years, especially during a difficult economy?



Find a great selection of antique and collectible firearms at GunsInternational.com.

Deb: Looking back on it now one would have thought we were crazy to launch a new business in such a competitive market in an economic downturn. We are fortunate enough to be able to laugh about it now. Seriously, through a great deal of work, planning, promotion, and user involvement we have done nothing but grow steadily.

And we continue to grow at an astounding rate. More and more sellers have been joining the site and their sales have been great. We currently have over 25,000 guns listed for sale and the traffic on the site continues to grow at a very rapid rate. In fact, we have over 1.2 million shoppers a month using GunsInternational.com. As such, we've added additional servers in January 2011 and again in December 2011 to handle the increased traffic.

The tough economy has probably pushed sellers toward us because they are always looking for value for their advertising dollar. Guns International invests heavily in advertising to bring in buyers and, for sellers, offers a variety of pricing models to fit any budget. This is very important in a lean economy as it leaves more profit for the sellers. Also, we do not charge a when-sold fee. Most dealers choose our all-inclusive Platinum account, which is one monthly fee that includes unlimited listings. The Platinum account is particularly valuable for dealers, as they then do not pick and choose what to list.

David: People see high-grade guns as a better investment in a down economy. Still, while we may have initially started out as a high-end site and do enjoy a reputation as having the largest selection of antique, collectible and sporting arms, we do have a wide assortment of guns as many of our dealers carry a wide assortment within their inventory. And there's a buyer for any kind of gun.



Click here to research gun prices at GunDigest.com before buying or selling on GunsInternational.com.

GDTM: What is the best way for buyers to pay the sellers?

Deb: Sellers determine what types of payment they will accept. Most dealers accept major credit cards, which would be my choice. Paying an individual collector is typically done with a Post Office money order, bank cashiers check, or personal check.

With the influx of fraudulent cashier's checks, personal checks offer a good option. To clarify: a bank will not be aware that cashier's check is fraudulent until after a gun is shipped, whereas you can be more confident when the bank clears a personal check.

David: In the Guns International selling process, a buyer finds the gun they like, negotiates directly with the seller, sends the payment and copy of the Federal Firearms License (FFL) of the dealer who will accept the gun on behalf of the buyer. Once the payment has cleared, the seller ships the gun to the buyers FFL.

According to GunsInternational.com policy, a buyer has three days once the FFL receives the gun to review and inform the seller if they will return it. The buyer would receive a full refund less shipping charges. Buyers and sellers cannot use PayPal as Paypal is a very anti-gun company, as is eBay, and it is against their policy to pay for firearms with the PayPal system.

GDTM: What else does Guns International offer?

Deb: We offer an FFL database free of charge to the FFL being included, as well as the buyer looking for an FFL to complete a transfer for them. In addition, one can also buy or sell their gun-related items and services such as ammo, scopes, stocks, and gun parts. The site's services area includes import/export FFLs, hunting guides, and engravers and gunsmiths.




Articles Home