Sorry! You're too late.
The Colt 38 New Service/Hybrid?? GI# 100611000 has been sold.
Click
here
to see what else is available by Northwest Fine Guns.
View other listings in this category....
Colt Pistols - 1905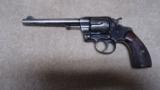 ONE OF THE SMALLEST PRODUCTION COLTS OF ALL IS THIS COMMERCIAL OR CIVILIAN MODEL 1905 U.S. MARINE CORPS .38DA REVOLVER. A total run of only 926 of these distinctive revolvers were made between 1
...Click for more info
Seller: GoodmanGuns
Area Code: 406
$2350.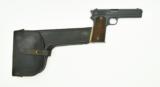 Manufactured in 1908 and shipped to Kimball & Upson in California. Kimball & Upson was a sporting goods store that sold a variety of other items. This gun is in excellent condition with close
...Click for more info
Seller: Collectors Firearms
Area Code: 713
19,500.00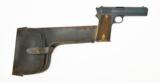 Colt 1905 with shoulder stock. Made in 1908. Gun is excellent with 93-95% of the original finish. Grips are excellent as well. Gun has the original leather stock. Stock is unnumbered. Some of these st
...Click for more info
Seller: Collectors Firearms
Area Code: 713
19,500.00
Fantastic Colt 1905 / Colt 1907 Model .45 ACP caliber pistol. Made in 1908. This gun is one of the 200 guns made for the US military and played a significant role in the evolution of the famed 1911. T
...Click for more info
Seller: Collectors Firearms
Area Code: 713
45,000.00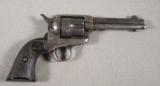 This Colt S.A. is 38-40 caliber has a 4.75" barrel. This Colt was shipped to Simmons Hardware Company August 1905 and was one of 80. The mechanical function is very crisp and has a very go
...Click for more info
Seller: 1898ANDB-4
Area Code: 707
$3,195.00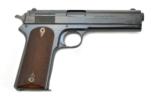 Colt 1905 .45 Auto caliber pistol. Very fine model 1905. Excellent bore, action works perfectly. Frame has 95-97% strong blue. Slide has 90-93% blue and is lightly fading. Grips are excellent with sha
...Click for more info
Seller: Collectors Firearms
Area Code: 713
7,450.00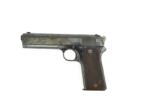 Colt 1905 .45 Auto caliber pistol. Made in 1908. Very fine gun with 70% of the original finish. Very good grips that show a little wear. Case colors remain on the hammer. Very Important gun in the evo
...Click for more info
Seller: Collectors Firearms
Area Code: 713
4,750.00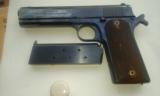 COLT MODEL 1905 .45 Rimless Smokeless, blue fixed sight,checkered walnut grips, SERIAL No 4491,the third developmental Colt Auto, leading to the Colt Model 1911 .45 ACP.  Mfg. 1905--1911 in a total ru
...Click for more info
Seller: mckeangun
Area Code: 253
$5,000, 00