Sorry! You're too late.
The Colt 38 New Service/Hybrid?? GI# 100611000 has been sold.
Click
here
to see what else is available by Northwest Fine Guns.
View other listings in this category....
Colt Pistols - 1905
For your viewing from my shooting buddy's estate is a Colt Model 1905 in 45 cal. Rimless smokeless. Ser. # 25xx. Pistol functions fine, but i have not fired it. All original condition, and i belie
...Click for more info
Seller: Bill Queen
Area Code: 406
SOLD + ship and insurance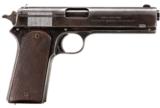 This is an original .45 caliber Colt 1905 manufactured in 1911. The pistol is completely original, with about 60% original finish remaining. Nitre blue trigger, and faint remnants of original case har
...Click for more info
Seller: Turnbull MFG.
Area Code: 585
$6,000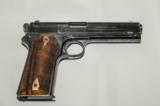 This gun is a must for any serious Colt Collector. Description : serial number 1399 Right side of Slide of the slide - Automatic Colt Calibre 45 Rimless Smokeless Left side of Slide -Patented Apr
...Click for more info
Seller: 1911 collector
Area Code: 907
$11,000
Colt 1905 with shoulder stock. Made in 1908. Gun is excellent with 93-95% of the original finish. Grips are excellent as well. Gun has the original leather stock. Stock is unnumbered. Some of these st
...Click for more info
Seller: Collectors Firearms
Area Code: 713
28,950.00
This is a good example of a WW1 1911 that was not redone for WW11. Good amount of bright blue, mechanically great, good bore with sharp lands. Two tone mag, all original. Was brought home by a W
...Click for more info
Seller: Wingshooting Adventures Inc
Area Code: 616
$3450.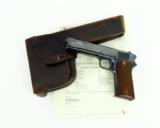 Excellent Colt 1905 .45 ACP caliber pistol with Shoulder Stock. Manufactured in 1908 and shipped to Kimball & Upson in California. Kimball & Upson was a sporting goods store that sold a variet
...Click for more info
Seller: Collectors Firearms
Area Code: 713
34,950.00