Sorry! You're too late.
The Colt 38 New Service/Hybrid?? GI# 100611000 has been sold.
Click
here
to see what else is available by Northwest Fine Guns.
View other listings in this category....
Colt Pistols - 1905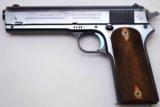 .45 ACP, only about 6000 Model 1905's were manufactured. THIS IS AN EXTREMELY RARE VARIATION WITH BACK STRAP SLOTTED FOR SHOULDER STOCK! Less than 500 were in this configuration! Beautiful light c
...Click for more info
Seller: RICHARD CROSIER FINE FIREARMS
Area Code: 502
$9750.00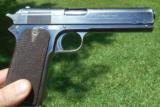 ON HOLD Bore in the 5" barrel is bright and shiny. It does not show much use. It will rate seven on a one to ten scale. Action is tight and works perfectly. Grips ar
...Click for more info
Seller: hideaway
Area Code: 501
ON HOLD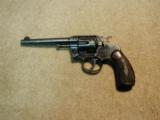 ONE OF THE LOWEST PRODUCTION COLT REVOLVERS EVER MADE! THIS IS THE 1905 CIVILIAN OR COMMERCIAL VERSION OF THE RARE 1905 USMC .38 SPECIAL DA REVOLVER! There is a lot of misinformation on these with som
...Click for more info
Seller: GoodmanGuns
Area Code: 406
$2350.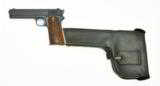 Colt 1905 with shoulder stock. Made in 1908. Gun is excellent with 93-95% of the original finish. Grips are excellent as well. Gun has the original leather stock. Stock is unnumbered. Some of these st
...Click for more info
Seller: Collectors Firearms
Area Code: 713
28,950.00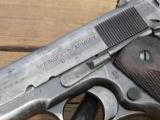 This is a good example of a WW1 1911 that was not redone for WW11. Good amount of bright blue, mechanically great, good bore with sharp lands. Two tone mag, all original. Was brought home by a W
...Click for more info
Seller: Wingshooting Adventures Inc
Area Code: 616
$3450.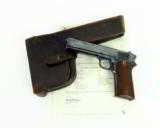 Excellent Colt 1905 .45 ACP caliber pistol with Shoulder Stock. Manufactured in 1908 and shipped to Kimball & Upson in California. Kimball & Upson was a sporting goods store that sold a variet
...Click for more info
Seller: Collectors Firearms
Area Code: 713
34,950.00