Antique Rifles - Blunderbuss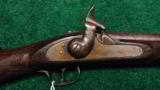 Approximately a 70 cal blunderbuss with the typical flared muzzle. Diameter at the muzzle is 1-1/2". Bbl length is 17". This blunderbuss is percussion. It has the typical ornate engraving to
...Click for more info
Seller: LeRoy Merz Antique Guns
Area Code: 218
$ 2,295.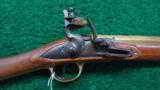 No markings appear on the bbl which measures 14-3/8" with 1-1/2" at the muzzle. Brass trigger guard and butt plate along with the bbl have a nice aged patina. The lock looks like it could be
...Click for more info
Seller: LeRoy Merz Antique Guns
Area Code: 218
$ 2,295.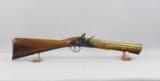 John Probin was Gun Maker to His Majesty King George 1V 1840-1851. This is a well made flintlock Blunderbus and is 28 ½" in overall length with a muzzle outside diameter of 1.82" It
...Click for more info
Seller: 1898ANDB-4
Area Code: 707
$3,695.00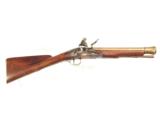 Brass cannon barrel marked "LONDON" and measuring 12 1/2". Beautiful brass mounts and pierced side plate. The lock is marked "NICHOLSON" In superb original c
...Click for more info
Seller: Caledonia
Area Code: 717
$4,950.00
Ottoman Turkish Flintlock DAG Blunderbuss, pinned 10 ¾" smoothbore barrel with 1 ½" flared muzzle, 20 ½" OAL. Unmarked floral engraved lock with brass furniture
...Click for more info
Seller: Big Iron Firearms & Collectibles
Area Code: 260
$1,900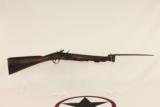 RARE Antique SPENCER Blunderbuss w Spring BAYONET FLINTLOCK Circa 1690 James SPENCER of England! Here we present an antique English Spencer Blunderbuss with a Spring-Loaded Bayonet, mad
...Click for more info
Seller: AncestryGunsLLC
Area Code: 314
$6,500.00

French Flintlock Blunderbuss or possibly a Naval Topmast gun. Bore at muzzle is 1 ½" diameter. Gun has no makers name or proofs. Barrel has a 23 ½" length and gun is 40&rdquo
...Click for more info
Seller: Collectors Firearms
Area Code: 713
3,650.00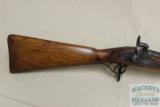 Antique full stock percussion Blunderbuss rifle marked Tower 1868, 25" barrel, 41" overall. Showing numerous old repairs, retains original ramrod, missing butt plate. Beautiful piece of hist
...Click for more info
Seller: Mackeys
Area Code: 252
$1,299.00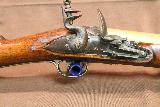 Ahoy maties harken back to the days of yore when Britannia ruled the seven seas and the sun never set on the British Empire, trade ships plied the waters ever vigilant for the Jolly Roger to app
...Click for more info
Seller: Vintage Arms of Illinois
Area Code: 847
$4,650.00

2 inches across the bell of the muzzle, barrel walls are 0.24 inches thick, 23 inch barrel, 38 1/2 inches overall, iron barrel and lock, brass furniture, lock marked "Welch Keene/& Co",
...Click for more info
Seller: Pete Erickson
Area Code: 701
$4250.00

Blunderbus Percussion Shotgun 60 Gauge 15 3/8" Round Barrel Blue Finish Walnut Stock Birmingham Proofed at rear of barrel Iron furniture Scroll engraving Brass Tip Ramrod Mid
...Click for more info
Seller: Elephant & Castle Fine Arms
Area Code: 417
$2,999.00

English Railgun Swival Blunderbuss Circa 1779 The octagonal breech of this impressive heavy railgun swival blunderbuss is engraved "LY2538" Irish registration number with &l
...Click for more info
Seller: Harley Wood
Area Code: 305
$4,450.00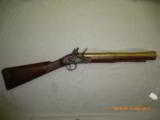 English Flintlock Blunderbuss (15-71) A very good Flintlock Blunderbuss w/Brass Barrel, circa. 1760-1770, Octagon to round 16" Brass Blunderbuss Barrel with wide flared muzzle, and mark
...Click for more info
Seller: Harley Wood
Area Code: 305
$2,800.00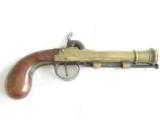 A nice boxlock type percussion pistol made in Belgium with a heavy all brass 4 & 1/2" blunderbus type barrel. The overall length of this fine pistol is 9". The well recognize
...Click for more info
Seller: romsey
Area Code: 619
$875--- + $30- shipping