Featured Gun Classifieds Evans Antique Rifles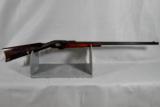 Evans Repeating Rifle Company (Mechanic Falls, Maine), ANTIQUE, lever action repeating rifle, "Old Model", caliber .44 Evans centerfire (1&quot
...Click for more info
Seller: Maryland Arms Company
Area Code: 410
$3495
Evans Antique Rifles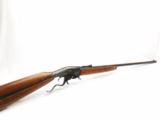 This is a New Model Evans Repeating Rifle chambered for .44 Evans Long. The 30" round barrel has developed a patina but still has some blueing. There are a few scattered dings but no pittin
...Click for more info
Seller: The Gun Works
Area Code: 541
$1,295.00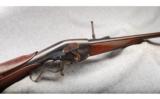 Seller: Cabelas Scarborough
Area Code: 207
1749.66 Now is $1599.66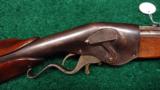 Cal 44. The 28" bbl still has a lot of blue remaining. Some turning a med brown. Bore is dark and could use a good cleaning. Receiver also has approximately 60% orig finish remaining. Some wear t
...Click for more info
Seller: LeRoy Merz Antique Guns
Area Code: 218
$ 1,875.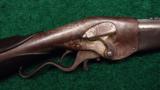 This is nickel plated with about 60% nickel remaining on the bbl. Very little nickel on the frame. Frame is mostly a pleasing brown. Gun is equipped with ladder rear sight and standard front sight. Wo
...Click for more info
Seller: LeRoy Merz Antique Guns
Area Code: 218
$ 1,575.

Lots of case color left on this Evans. Note the exceptional wood and the elegant horn forend tip. A little pitting forward of the chamber but then cleans up to a nice bore. *** Note: To see this gun
...Click for more info
Seller: Vintage Doubles
Area Code: 509
$2,100.00

Evans Montreal Rifle. Hard to get gun. Only about 50 of these guns are known. They were marked with their own barrel address for the Evans dealer in Canada. Barrel and frame have a very old refinish t
...Click for more info
Seller: Collectors Firearms
Area Code: 713
3,295.00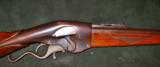 EVANS REPEATING RIFLE CO, LEVER ACTION REPEATING SPORTING RIFLE, 44 EVANS, 1874 MFG DATE, 28" OCTAGON BBL, EJECTORS, SINGLE TRIGGER, STRAIGHT WALNUT STOCK, CRESCENT BUTT, LOP 13 1/4, 10LBS 6OZ, B
...Click for more info
Seller: Safari Outfitters Ltd.
Area Code: 845
$2,995

Evans Old Model rifle. Hard to find guns. Gray to brown patina on metal. Very good bore and action works perfectly. Very good example of a hard to find gun!
...Click for more info
Seller: Collectors Firearms
Area Code: 713
2,895.00

Evans ""Old Model"" serial number 373. Approximately 500 made. Bore is good with strong rifling and light pits in the grooves. Excellent barrel address. 30"" barrel. Barrel has a blue brown patina. Ex
...Click for more info
Seller: Collectors Firearms
Area Code: 713
3,495.00