Smith & Wesson Revolvers - Model K-38
Smith & Wesson Revolvers - Model K-38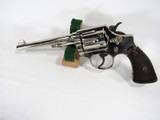 S&W M&P MODEL OF 1905 4TH CHANGE 38SP 6", SQUARE BUTT, 85% NICKEL, NICE GRIPS, EXCELLENT BORE
...Click for more info
Seller: WILDWOOD INC
Area Code: 207
$595.00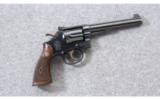 This five screw frame Smith & Wesson K-38 Masterpiece is in very good to excellent condition. The timing is good. The lockup is solid and there is no end shake. This would be an excellent re
...Click for more info
Seller: Cabelas Lehi
Area Code: 801
$899.99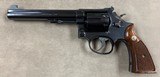 This would be a mint model 14-3 except for one small spot on the cylinder of approx 1/4 inch square - not pitted just blue missing, and a very faint cylinder line. All the rest of the gun
...Click for more info
Seller: Ocala Armory
Area Code: 352
$649.00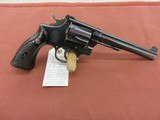 Smith & Wesson K-38, 38 Special, 6" barrel, serial # K83XXX, case color strong on hammer, lightly faded on trigger, adjustable rear sight, fluted cylinder, square butt, pinned barrel, blue fa
...Click for more info
Seller: Schultheis Sporting Goods
Area Code: 607
$675.00 + $35.00 shipping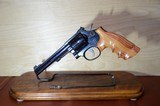 A Beautiful Smith & Wesson Model 15 ( K-38 Combat Masterpiece ) SA/DA adj. rear sight, Patridge front sight. A classic revolver with no internal lock.
...Click for more info
Seller: Toms Smoking Gun Labs
Area Code: 860
$650.00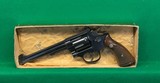 This early S&W K-38, in near mint condition, is in the original box and still has the original numbered grips. Later versions are known as model 14's. Part of a trio by S&W, the K-22,&nb
...Click for more info
Seller: Burnt River Trading Co.
Area Code: 503
$998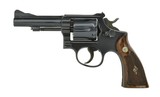 Smith & Wesson K38 Combat Masterpiece .38 Special caliber revolver. 5-Screw Pre-Model 15 Combat Masterpiece. The barrel has some light speckling, overall very good-plus condition.
...Click for more info
Seller: Collectors Firearms
Area Code: 713
$849.95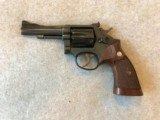 THIS IS AN EARLY MODEL S&W K38 MADE IN 1951. CHAMBERED FOR 6 ROUNDS OF 38 SPL. IT HAS AN ADJUSTABLE REAR SIGHT AND S&W DIAMOND GRIPS. IF YOU HAVE ANY QUESTIONS, PLEASE ASK. CHECK OUR
...Click for more info
Seller: TACEQUIP
Area Code: 843
$529 PRICE REDUCED