Powell & Sons, Wm Shotguns
Powell & Sons, Wm Shotguns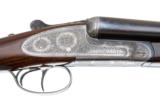 BARREL #1 29" 1/4 AND 1/2 2 3/4 BARREL #2 29" 1/2 AND 3/4 2 3/4 DOUBLE TRIGGER EJECTORS SPLINTER FOREARM ENGLISH GRIP MAKERS CASE EXCELLENT CONDITION 6LBS 13 OZ 1 3/4 DAH 1 1/2 DAC
...Click for more info
Seller: Steve Barnett Fine Guns
Area Code: 662
$9,500.00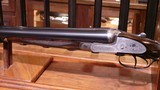 Maker: Wm. Powell & Sons Model: Sidelock Gauge: 12 Barrels: 27" Chokes: Mod - Full L.O.P. : 15" Drop: 1 1/2"C x 2 1/8"H Weight: 6 lbs 13 oz Ser. #: 9875 Stock #: 9488 Price: $4,950 New or Used: Used
...Click for more info
Seller: Robin Hollow Outfitters
Area Code: 401
$4,950

Hammerless Sidelocks - Completed in 1898 this is an outstanding sidelock by one of the most prestigious of the British non-London makers . An excellent deal in high grade English sidelock with origi
...Click for more info
Seller: Vintage Doubles
Area Code: 509
$7,600.00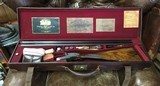 Hammerless Sidelocks - I am really impressed with this William Powell. Tight on face, great stock dimensions, incredible engraving and wood, this one has it all. This would make an incredible gift,
...Click for more info
Seller: Vintage Doubles
Area Code: 509
$8,200.00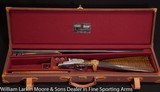 ID # 7080 Make WILLIAM POWELL & SON by Arrieta Model Heritage No. 2 Configuration SXS Gauge / Caliber 20 GA Price $6,000.00 Serial # 16162 Country
...Click for more info
Seller: William Larkin Moore & Sons
Area Code: 480
$6,000.00

Hammerless Sidelocks - 1898 This Powell is a wonderful gun to hold and swing. Perfectly balanced with only a hint of barrel weight forward which is what most of us want and need for a fluid swing.
...Click for more info
Seller: Vintage Doubles
Area Code: 509
$7,600.00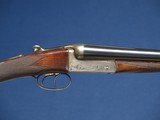 Williams & Powell boxlock 20ga SXS. 28 inch Cyl and Mod .002 & .020. 2 1/2 inch chambers. Double triggers. Extractors. 30% case coloring. 96% blue. Excellent bores. 14 1/2 LOP wooden butt plat
...Click for more info
Seller: Crosnoe Guns
Area Code: 573
$2,450.00
William Powell & Son Shotgun 12 bore Boxlock Has ejectors 30" Nitro Proofed 1 1/4 ounce max Damascus barrels with full length concave solid rib Single bead front sight Bor
...Click for more info
Seller: Elephant & Castle Fine Arms
Area Code: 417
$4,797.00
Description: SN 11140/11141. (1902) Cal. 12 ga. 2-3/4" Chambers. This fine old pair of high end quality guns appears to have been completely rebuilt by the factory in 1994, including new 28
...Click for more info
Seller: orionbuy
Area Code: 806
$14,000
serial #15125, 12 ga, 26" barrels choked improved cylinder and improved modified with bright excellent bores. The action features nice tasteful scroll engraving in about 75% coverage and is engra
...Click for more info
Seller: orionbuy
Area Code: 806
$5,000
#8250, William Powell & Son, 13 Carrs Lane, Birmingham: A 16 Bore 2 Barrel Toplever Rebounding Hammer Bar Action Bar-in-Wood Game Gun Made in 1887 with 29" Extractor Damascus barrels, These d
...Click for more info
Seller: Champlin
Area Code: 580
$7,950.00
#10279 & 10280, William Powell & Son, Carrs Lane, Birmingham: A 12 Bore Pair of Boxlock Ejector Game Guns Made 1898, Both guns rebarreled with modern 30" Ejector Dovetail lumps with a dolls head exten
...Click for more info
Seller: Champlin
Area Code: 580
$8,500.00